July 2, 2020
Things I Like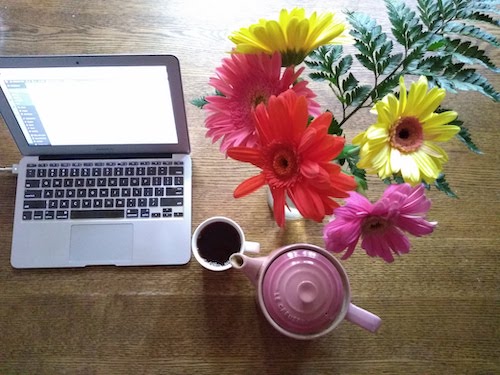 I am sorry I've been out of touch. Except for social media updates, of course. And we've been getting together with friends in our neighbourhood, picnics in the park, but the idea of anything further afield kind of overwhelms me. By April, I was done with Zoom. And my world is so small right now, wedded to routine, that any deviation throws me for a loop. I've always been a bit like this, but living in pandemic times is even more so—and as real life begins to return again, it's something I'm going to have to work on, at least if I want to continue to have friends, which I do.
But in the meantime, I read on the couch every night—which is kind of my ideal situation, to be honest. And I've tried to balance going to nobody's online literary event by buying and reading all the books instead—even in the before-times, I've always preferred partying alone with my book to going to a book party anyway.
And when I'm not reading, there are a few other things that I'm getting up to, things that help me measure out my days and bring me joy, which is why I want to share them with you.
Jen Knoch's Tuesday newsletter is fabulous reading, rich and thoughtful with smart ideas about our environmental impact. I look forward to it every week and you should sign up too!
I'm not a metal fan (you are SHOCKED, I know), but "Wind of Change", by Scorpions has long been a fascination of mine, along with Cold War history, so I was intrigued by this podcast exploring rumours about whether the song had been a project of the CIA—and it's by Patrick Radden-Keefe whose book about the IRA Say Nothing was a favourite in our household this year. The podcast is fun, but really interestingly explores ideas about propaganda as it progresses (is the podcast itself propaganda, Radden-Keefe wonders?).
We call this "The Trashy Podcast" at our house, but it's also smart and interesting—the episode with Congresswoman Katie Porter was unforgettable. To be honest, co-host Rick Wilson is not my fave, a former Republican strategist whose work is responsible for the mess we're in—he refuses to see a possibility of politics not having to be a dirty game, but he likes himself enough that my feelings are never going to matter—but Molly Jong-Fast is great, and it's the kind of perspective on American politics I appreciate right now, one that refuses to take the Ding Dong President seriously.
There are some stand-out moments in the blur of these times, and the weekend of The Big Lasagne at the end of April was one of them. (It was actually too hot to be cooking lasagne that weekend, and I was reading Writers and Lovers, by Lily King. It was lovely.) Samin Nosrat, of Salt, Fat, Acid, Heat fame, decided that people the world over could cook lasagne together, and so we joined her, making SmittenKitchen's recipe that involved two days of prep and fresh pasta. It was amazing and our lasagne even got reposted on the New York Times Cooking Instagram feed, which might be as close as I ever come to being in that paper.
Things delivered to my door have also been a real delight—books, donuts, popsicles, and more!—but Spade and Spoon is my absolute favourite. We were almost out of maple syrup one day in April when they first came to our service, and we bought jam too, lots of jam, and pickles. Every two weeks they've been delivering their products to the GTA, and we've ordered quite a few times. Nothing tops the pickled asparagus though. So so delicious.
When I read Madeleine L'Engle's Austin series last year (which I haven't mentioned for at least five minutes!) I felt very sensible for having borrowed each book from the library, but there came a moment in April where not having these books in hand was no longer acceptable, so I ordered them all, speaking of deliveries. The best thing? They're kids' books so five of them is not much more expensive than a regular hardcover. (In my mind, this basically constitutes making money…which is one of many reasons why I am not rich.) And then I started to read them with my family, and everybody's enjoying them—we're halfway through The Moon By Night. I can't WAIT to read The Young Unicorns with them! Previously, I'd thought perhaps these books with their ominous undertones was too dark for family read-alouds (as Vicky Austin contemplates the genocide of Indigenous peoples and fears nuclear holocaust) but it doesn't feel like that anymore.
I miss swimming. It's been over a hundred days since my last morning swim and my towel and bathing are still hanging over the banister where I hung them, but I am filling the void with morning yoga classes online with the YMCA of Greater Toronto, which similarly let me start my day with my body feeling good. Our favourite teacher is Nazia White, and we love her. The YMCA is moving to a summer schedule next week so there might be less yoga in the offering, but we might double up on the classes, because a daily dose is a very good thing.