July 1, 2020
Leftover Spaghetti Frittata (or We've Come a Long Way)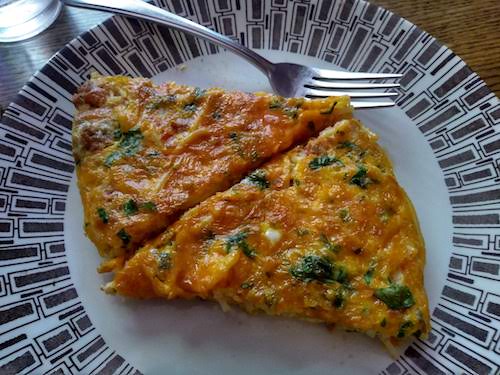 I made leftover spaghetti frittata for the first time at the end of March. This was when I kept scrolling news in hopes of good news, and there was none. I kept checking in on food writer @emikodavies under lockdown in Italy, and it was some solace to see her family's daily life continuing, albeit in confinement. If they could keep going, so could I, was my reasoning. The recipe she posted in her feed also appealed to me for its frugalness. This was in my "reusing parchment paper" phase, when I was worried about food availability. It made a meal that was as comforting as it was delicious.

I do not think the pandemic is over. And I WOULD go into detail about our rituals, the ways we're taking precautions, but I won't, because reading such posts from other people makes me anxious. Suffice it to say, however, that we have not returned to business as usual. But we have also found ways, in this new reality, to reclaim joy and pleasure, and it's not at all as incongruous as a lot of people might think.

I do not think the pandemic is over, but I really want to celebrate how far we've come since that dismal day in late March when I first poured eggs into my spaghetti. I think a fixation on US politics here in Canada has confused many people about the many ways their situation is different from our own. And there are, of course, a hundred other reasons to be lugubrious right now…but we're still here, and now it's summer, basil blooming in my garden, which I mixed into our frittata today.

There have been unfathomable losses, it's true, but things are better now, infection rates here in Ontario continue to be low, community spread decreasingly a factor. The pandemic is not over, but do you not see still what a wonderful thing this is? That we are not without reasons to be hopeful after all?

I am going to make spaghetti frittata forever, I think. I am going to use spaghetti even as a means to frittata, in fact, and it's going to remind me of these days, of all we've learned about community and connection, living with uncertainty and weathering hard times. Of what grows, and persists, and even blooms.

The pandemic is not over, but we have come such a long way.