May 5, 2020
A Match Made for Murder, by Iona Whishaw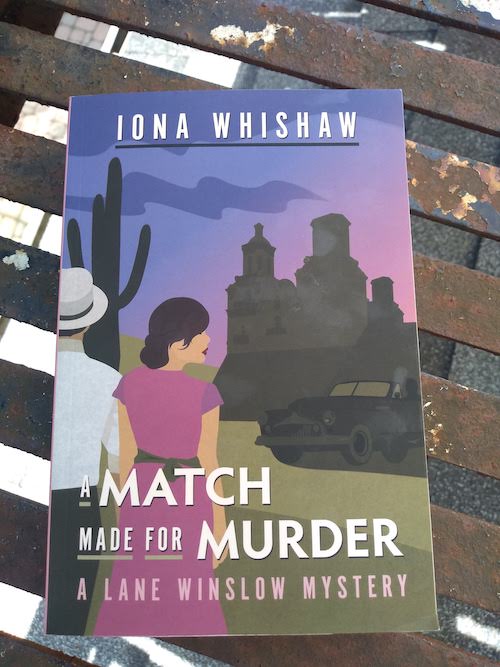 If you've ever wondered just how much they have to pay me to love the Lane Winslow mystery series as much as I do…the answer is nothing. And never has there been a series quite so easy to love, a series of books that has done wonders for my reputation as a person with good literary instincts, because everyone I recommend the series to loves them too, and that I get to receive a tiny bit of credit for that is marvellous luck. To have any kind of proximity to Lane Winslow is really a wondrous thing.
It never disappoints, this series, whose seventh installment is A Match Made For Murder, and Iona Whishaw has taken her heroine and her new husband on honeymoon to Tucson, Arizona. But first I'll catch you up a bit, if you're new to King's Cove, the small village outside of Nelson, BC, where Lane Winslow—young, brilliant, beautiful, looking for a quiet life after spending WW2 spying for the British—retires in search of a quieter life, but she's just got this knack for stumbling over bodies. Which brings her close to the handsome Inspector Darling—although in the first book, he's arresting her on suspicion of murder. All that's sorted out now, however, and the wedding has finally happened. On her honeymoon, at least, will Lane finally get the rest and relaxation she's been seeking for the past two years?
But just while Lane is settled onto a lounge chair by the pool, reading a book (Nine Tailors, by Dorothy Sayers, naturally!), a shot rings out, and it won't be the last one fired before the book is over. It turns out that Lane and Darling are surrounded by couples with complicated arrangements, mob connections, and possibly murderous intentions. Meanwhile, back in King's Cove, Ames is left to unravel a curious case involving a dead man whose reputation for interfering with teenage girls goes back at least a decade, and when the woman he fancies turns out to have a connection to him, he struggles to retain his impartiality.
As always with Whishaw's books, the novel is a delight, charming and funny, cozy and enveloping—by page 7, there are already scones. It's also a wonderful literary homage to the classics of detective fiction, and I love that Nelson, BC, comes with its very own Baker Street. But coziness is not even the half of it—the series takes on race and racism (in this latest book, Nelson has its first Black police officer and Ames comes to understand that he gets to be regarded as an individual, while his colleague is forever representing an entire race), and misogyny, rape and spousal abuse all factor in this story, which is strongly concerned with the enormous power that men had at the time (and still have now) to control the women in their lives, and also with their sense of entitlement to that control. It's an idea that is present in both Lane and Darling's minds as they contemplate how their relationship might be different now that they are married—but then neither of them has ever had much taste for convention.
Lane Winslow, of course, will be keeping her name.
---
I will be co-hosting Iona Whishaw's virtual book lunch tomorrow night (Wednesday May 6, 7:00 Eastern). I hope you can join us!
And here is Iona Whishaw reading from her new novel as part of 49thShelfLAUNCHPAD.