May 4, 2020
Open House, by Jane Christmas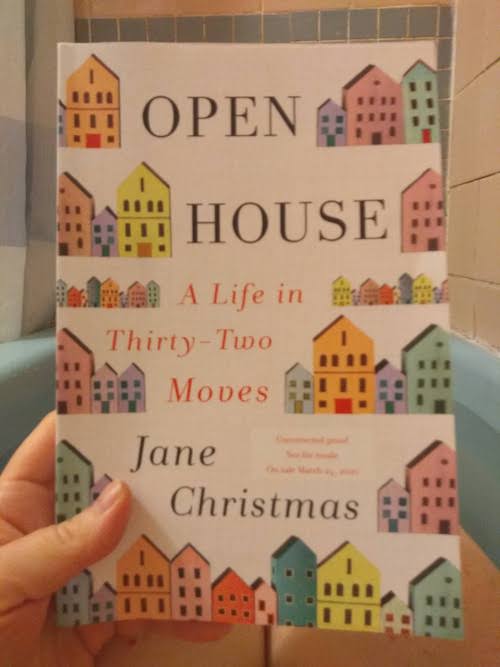 Something that truly shocks me are the number of attractive book covers identical in palette to my hideous bathroom, a bathroom whose hideousness I can blame on the fact that I don't own a house, have never bought a house. The pink tiles and green blue tub are not something I ever would have chosen, but I have grown comfortable with them (and with the mildewed grouting) because it's been home for 12 years now, and we live very comfortably here with rent that's as affordable as my bathroom is ugly. (Which is to say: VERY)

But I have always been fascinated by houses, and how people live inside them, which is why I peruse real estate listings for fun, which is how I discovered my childhood home is currently for sale, and spent Friday morning virtually touring the place as in a dream. Which is why I was also a fan of the British property show Location Location Location when I lived in England, a nation whose sense of house and home is peculiar and fascinating, and felt very proud to rent a terrace house of my own (albeit just a two-up two-down, with nary a bay window), a photo of which hangs in my living room today (naturally with the bins out front). All of which makes me an ideal reader for Open House, Canadian Jane Christmas's memoir of an extensive renovation on a Victorian terrace in Bristol she purchased with her third husband after their dream of living in a seaside town was scuppered by a variety of factors including SEAGULLS. Throughout the book, she examines her propensity for moving (she has moved 32 times!), her peripatetic childhood (and her many childhood homes in suburban Toronto, her marital homes, the places she lived in gritty 1980s Hamilton as a single mother.

The book has all the appeal of MLS listings, but with stories that don't need to be guessed at. Instead, with characteristic candour, humour and flair, Christmas strips her life to the studs, and ruminates fascinatingly on notions of home and the places where we make them.