April 16, 2020
The Union of Smokers, by Paddy Scott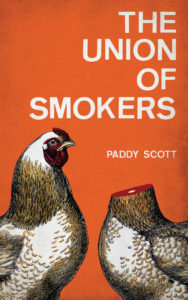 I confess that I cheated a bit with this one. A book about a twelve-year-old boy, "the heroic last day in the life" according to the copy on the back, and these days I just don't have the stomach for heartbreak, so I read the last page first to see if this was a tragedy that was survivable—for me or the character, or both, perhaps—and I determined that it was. I could take this.
So I knew what I was getting into with Paddy Scott's The Union of Smokers, is what I mean, but did I really? In this story of Kaspar Pine, a farm kid from the outskirts of Quinton, ON, which bears an uncanny resemblance to the town of Trenton, right down to the swing bridge and the creosote plant with a propensity for catching on fire.
Not everyone takes Kaspar seriously, in fact nobody really does, except Kaspar himself. ("Getting snorted at by women is bound to happen if you've learned your entire repertoire of charming manoeuvres from senior citizens.") His mother's whereabouts are unknown, and he was brought up by his father in a kind of deprivation, until circumstances changed and he was brought to live with his maternal grandparents on a farm outside of town. They, at least, provided him with the stability and love that had been missing from his life, and a sense of identity in farming culture, which most of the people who live in town don't properly understand.
Kaspar, a prolific smoker thanks to the collection in his butt baggie, bikes into town to replace a canary (twice) and here is where the book begins, when he meets up with Mary Lynn, love of his life, just a couple of years older, with whom years before he'd once shared a dramatic adventure while dressed in a cowboy costume, but she doesn't remember. The two of them become yoked, and it turns out their bond is even deeper than that, although not in the way that Kaspar longs for, and Mary Lynn herself has no idea what to make of this wacky weirdo kid who won't leave her alone and ends up using her bra as a tourniquet, but not in a sexual way.
An eccentric portrait of small town life; a narrative voice that gets in your head and proves unforgettable, a story that manages to be utterly devastating and uplifting at once thanks to a character so strangely and richly imagined, with the most indefatigable sense of himself and his story and his worth—no matter what anybody else thinks, and you're going to take his side. Not to mention be sorry when it's finally time to leave it. I really loved this book.
PS I picked up the book finally after its virtual launch at 49thShelf. Throughout this month and next, we're spotlighting new releases that deserve our attention at a moment when launches and festivals have been cancelled. Hope you can pay attention to what we're doing here and do your best to support these books and authors.