April 2, 2020
No More Nice Girls, by Lauren McKeon, and Lean Out, by Tara Henley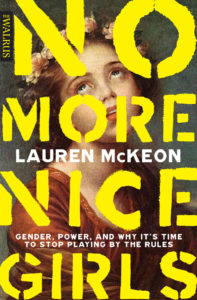 Although almost everything I was reading a month ago seems kind of irrelevant now, Lauren McKeon's No More Nice Girls feels like it could be an exception. This underlined by the number of Canadian politicians and public health officials who are women and spearheading efforts to fight and control what's going on right now, women we are turning to for answers and reassurance, one of whom, Deputy Prime Minister Chrystia Freeland, shows up early in McKeon's book as as "a new kind of power that's completely, deliberately at odds with a very old, very masculine one."
In her book, McKeon imagines what might be possible with a different kind of power, and writes about ways that people are imagining such things already, with all-women co-working spaces, the #MeToo movement, "identity politics of lonely, angry men" as a backlash to women's power. She writes about how conventional power doesn't tend to work for women when they achieve it, corporate achievement as an example, where the women at the top still have to contend with the same challenges that all women do—sexism, harassment, discrimination, violence, a gender pay gap. The ways in which women have to be "better than perfect" to be accepted, while any guy in a poor fitting suit seems to fit the bill. And the limits of #GirlBoss kind of power, which is the kind of individualized, status-quo sustaining power that the patriarchy likes.
It's difficult to synopsize McKeon's book, whose range is so wide. She writes about race and representation; economics and federal budgets; gender and the media; how technology affects our lives and what it means that so much of technology is created by men; feminist cities; online trolling (McKeon is author of F-Bomb: Dispatches from the War on Feminism, which I read and loved in 2017); and about numerous and inspiring ways that women all over the world are raising the bar and changing the narrative on traditional notions of what a life of a woman ought to look like. It's an incisive and inspiring read.
*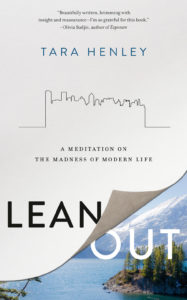 I read No More Nice Girls in "the before times" and then was unable to read anything properly for a couple of weeks, as the world before my eyes was changed into a surreal and disturbing reality. And the book that finally brought me back to reading was Tara Henley's Lean Out: A Meditation on the Madness of Modern Life. (Full disclosure: Henley wrote a kind and generous review of my novel back in 2017. We also share an editor. Neither of these factors are why I'm so obsessed with her book, but are definitely worth noting.)
Reader, this book was a balm, as it was always meant to be—but it meant so much more than it would have even a month ago. Suffering from physical symptoms of anxiety in 2016 after a decade of living in the big city and working in journalism, Henley reached a breaking point and realized that things would have to change—but also that she was limited as to what change was possible to her as an individual, this becoming even more apparent after she moves back to her hometown Vancouver and is confronted with the city's unaffordability. Does modern life truly have to be like this, Henley wonders? A less solipsistic Eat, Pray, Love is how I am thinking about this book.
Lean Out is rich with reporting, but underlined by Henley's own story and family history. (It's also gorgeously written and inspired by the works of Madeleine L'Engle, which meant a lot to me after My Year of Vicky Austin.) She writes about alternatives to the way we do work, connect with nature, eat food, make and spend money, live online, combat loneliness, find community, and make our homes. Arriving at not definitive answers, but instead broadening the range of what is possible for a more fruitful way of living both as individuals and as a society. And, as with McKeon's book, it all comes down to inequality in the end—data shows that unequal societies, Henley writes, make life demonstrably worse for everybody, even those who are at the "top."
Which is something all of us should keep in mind as we think about what kind of world we want to live in "when all this is over." I am so grateful to these authors who are already doing the work of imagining new and better ways of being.
*Both these books are included on a Books With Vision list I created at 49thShelf. And an amazing Q&A with Henley will be up on 49thShelf in about a week. Stay tuned. And buy her book in the meantime—you will be glad you did.