March 4, 2020
My Barbies Always Got Pregnant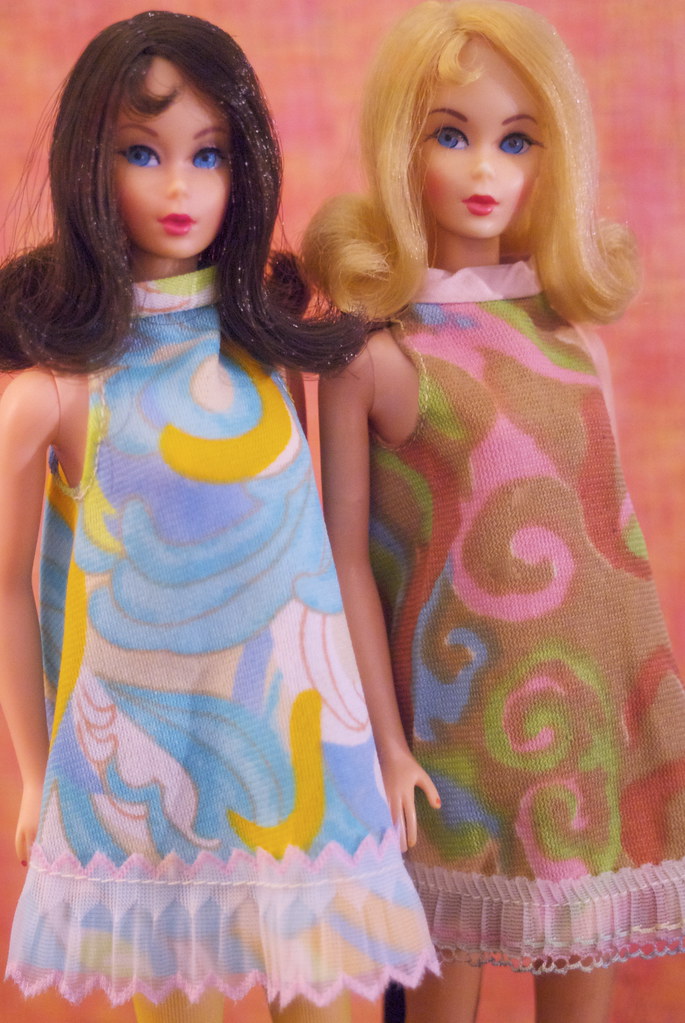 Maybe it's genetic? Because we were listening to our children playing Playmobil the other day, and one little plastic figure or another in their game had gotten knocked up, and my husband said, "It's just like you!" Because my Barbies always got pregnant, always. I didn't even really have Barbies, but I played when them at my cousin's house, and the narrative of our game would inevitably reach the point where I'd stuff a pile of clothing under my Barbie's voluminous blouse (my cousin's Barbie fashions were very 1970s and a-line) and suddenly it would be A Very Special Episode. I don't recall that my Barbie ever had a partner, because who could be bothered with Ken, who underpants were moulded to his body, so it wasn't like that old Barenaked Ladies Song. I don't recall either where I got the idea for this Barbie story line—it is possible I was unduly influenced by the movie Look Who's Talking, but that movie didn't come out until I was 10, and I think I'd been playing Pregnant Barbies for years before that. And it wasn't even Barbies—any kind of imagination role-playing game would, for me, inevitably lead to me getting pregnant (with clothes stuffed up under my t-shirt, natch), to the point where people didn't want to come over and play with me anymore—although it's possible there were other reasons for that.
Other pop-cultural pregnancies that influenced me: Elyse Keaton's shark-jumping pregnancy late in the Family Ties series (she goes into labour while wearing a brown velour track suit that I think my cousin's Barbie had); Elizabeth McGovern's pregnancy in the movie She's Having a Baby, with co-star Kevin Bacon, which I never even saw, but I was obsessed with the trailer and where she said, "I stopped taking the pill"; when Martha Plimpton gets pregnant in the movie Parenthood (and perhaps that entire movie); and the Molly Ringwald vehicle For Keeps, which I am not sure I ever saw either, but I sure did read the back of the VHS tape at my corner store. And yes, Look Who's Talking, and maybe the source of all of this is that I figured if I got pregnant, at least I'd end up with John Travolta in the end. (And Kenickie and Rizzo in Grease. Even though that was just a false alarm.)
I also spent my childhood reading newspaper articles I didn't properly understand about stories like Baby M, and Chantal Daigle.
Anyway, it occurred to me—as I listened to my children following my imaginative footsteps, as I was going through copy edits for my brand new novel that is forthcoming in October—that my Barbies never actually quit getting pregnant, and that I just started writing their stories down in stories instead. Because my fictional characters always get pregnant too. Or they don't—I'm currently writing a short story about a man whose wife, an online influencer, decides to monetize her infertility. In 2014, I edited an anthology of essays all about the experience of getting pregnant, or not getting pregnant, because these are the big turning points in a person's life. A year ago I wrote about how I do love me a good fictional abortion (which is not to say that the nonfictional ones aren't worth having, obviously) but I think I can take a step back from that and consider that it's pregnancy in general (desired or not, realized or not) that most intrigues me from a narrative point of view. It's why, to be frank, books about men don't interest me that much, because men's lives don't offer the same possibilities, the same questions and potential for transmogrification. The hero quest? Yawn. Instead, the possibility of having your entire life railroaded (by a pregnancy or the failure to have one), not being architect of your own fortunes, so much left to chance, hope, luck. It's in all the fairy tales, some of our oldest stories, Sleeping Beauty and Rapunzel, even the old woman who lived in a shoe.