January 29, 2020
The Towers of Babylon, by Michelle Kaeser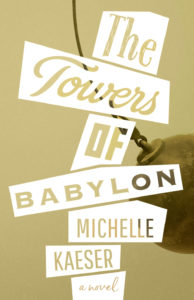 I am just old enough to be wary of a novel whose plot is described as "track[ing] a group of hapless Millennials trying to find meaning in a world that consistently rejects them," but am I ever glad I overcame such aversions to read Michelle Kaeser's debut novel, The Towers of Babylon, whose characters are as complicated and wonderful as its exquisitely Toronto setting.
The novel—split into four sections—begins with Joly, whose advanced degrees in creative writing have left her interviewing for the same barista job she had in high school. She's living with her brother in East End Toronto, writing stories that delight her but whose publications don't even pay peanuts, and then she finds out that she's pregnant, which was always going to be complicated, but in particular because her partner is Ben, once a philosophy student, always a social-anarchist, but now he's got a job at the local bagel place and the house he shares with a group of roommates is about to be condemned. When she tells him she's knocked up, he's already drunk on his home brew, but isn't too drunk to realize that a baby isn't possible. And Joly doesn't even really want a baby either, but she longs for a life where it might even be a question. "Now that she's stormed through the door of thirty, the abortion instinct doesn't ring out quite as loudly as it once did."
The reader meets Joly's best friend Lou in the novel's first section, when Lou counsels Joly through the shock of her positive pregnancy test. On the surface, Lou seems to have it all together. She has a successful career (albeit a ridiculous one, as is obligatory in our time—she markets to marketers, selling space on billboard) and is married, living in her childhood home in the suburbs, which she purchased from her father. But all is not right, because she insists the house be preserved in time, from the era decades ago just before her mother died of cancer. And all is not serene in Lou's marriage, as the reader will discover, and her career is at a breaking point. She's got a better CV, but her situation is not all that improved over Joly's.
And then Ben, Joly's boyfriend, who should be the most charmless literary character I've read in ages (he calls Joly "doll" and when Joly tells him about her pregnancy, he asks her, "Can you even carry my mighty seed? Look at you. Look at me. Your runty frame would split right open!") but there's something endearing in his approach, and in his clumsy love and affection for Joly, and for his idealism and insistence upon it, as he lectures the Priest at his Anglican church on how to deliver her sermons, or causes trouble at the bagel place by agitating for workers' rights and trying to start a union.
Religion plays a important part in the novel, as the title would suggest, and the Toronto skyline (the CN Tower in particular) underline the symbolism of this society in decline that Kaeser is writing about. And while sometimes the Tower of Babylon references read a bit too heavy-handed, the novel's consideration of religion is nuanced and interesting, invoking more questions than answers about why these characters are turning to age-old superstition to put meaning into their lives. The novel is ambivalent about the role of religion in the modern world, presenting Ben and Lou as people who find meaning in faith, and then Joly's brother Yannick, who completes the quartet and who is furious that his wife is insisting on their daughter's baptism. For Yannick, religion doesn't fill the void, but it doesn't mean the void isn't there as he gambles away his future on an all-consuming career in private equity and a passionless marriage. He doesn't know how to solve the puzzle any more that anyone else in the novel does.
While The Towers of Babylon doesn't offer solutions, however, what it does properly is entertain with robust and rollicking prose (the novel's editor is the amazing Rosemary Nixon, and it shows), and offer a disquieting but still splendid illustration of life at a specific and anxiety-ridden moment in time. That its characters manage to be as lovable as they are flawed is a significant literary achievement, I think, and so is the fact that while the story is hard-hitting and unflinching, it also reads up a pleasure.