January 27, 2020
Big: Stories About Life in Plus-Sized Bodies, by Christina Myers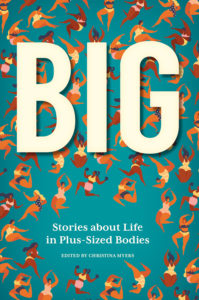 The problem, when we talk about fatness—and body image, and body positivity, and health, and self-acceptance, and fatphobia and discrimination, and diet culture, the experience of feeling fat, and the experience of being fat, and so much more—is that we're talking about a hundred different things and experiences, and that even though one thing often seems like it's the flip-side of another—fat and skinny, for example—reality itself is more textured and complicated, and intersects with all kinds of ideas about race, and class, and gender.
Textured and complicated, however, are the perfect conditions for an interesting anthology, and this is why Big: Stories About Life in Plus-Sized Bodies, edited by Christina Myers, is such a rich and rewarding read. Sometimes anthologies themselves can be too heavy (not a pun, really, and I mean in terms of tone and length) but this one is designed to be inherently readable—and speaking of design, I love the cover.
Most contributors are women, though non-binary and genderqueer writers are also are present, and writer Tracy Manrell (who identifies as non-binary transmasculine) writes fascinatingly of the differences between being fat in a male and a female body.
Many writers consider relationships to weight that stretch back to childhood, and chart the long journey to learning to love their bodies. Others write about discrimination receiving health care, or about parenthood and pregnancy, or the simple challenge of finding clothes to fit.
Award winning humour writer Cassie Stocks writes about her love of fashion and deciding to sew her own clothes. Sonja Boon inventories the black articles of clothing in her closet. Jo Jefferson tells their story through swimsuits. Lynne Jones writes about abusive relationships. Jessie Blair struggles with gastric surgery. Amanda Scriver shares her journey toward radical self-love. Emily Allan writes "Ten Things I Love About Being Fat." Other favourites are Heather M Jones "My Superpower is Invisibility," Christina Myers' "Fat Girl's Guide to Eating and Drinking," Andrea Hansell on battling with Spanx, Tara Mandarano on health struggles and her weight, and Susan Alexander on getting over decades of binge eating.
Big is definite worth picking up because it succeeds at its editor's goal of being a book that "makes you ask questions: about the way you think and talk about your own body and other people's bodies, about the world we live in and its lessons and obsessions, and about the words we use and how they shape us."