January 21, 2020
Fleishman Is in Trouble, by Taffy Brodesser-Akner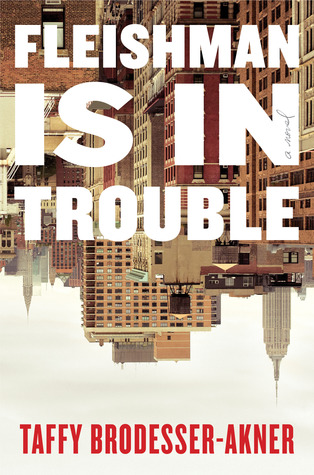 I was going to say that I don't know how I missed out on the Fleishman Is In Trouble hype, except it occurs to me that I totally do. I didn't know anything about its author, Taffy Brodesser-Akner, first of all, a seasoned magazine writer, so her name wouldn't have led me to pick the book up (especially since her name is Taffy, which is the funniest name since Flossie). And besides, she'd written a novel about a man in the spiral of a midlife crisis and the only thing I'd care about less than that is the story of a young man coming of age (ugh), so I just didn't bother.
But then people kept posting about the novel on Instagram, and all the posts had comments from other people who'd read the book and loved it, so I was curious. So curious that I eventually put the book on hold at the library, except that I was more than 500th on the holds list… Which came up in conversation when my daughter was sitting on my lap one Sunday morning and we were reading over the 2019 New York Times top 100 list together—she likes to practice her reading. My husband overheard me commenting about my interest in the book, and the library hold situation, and had a brilliant idea—so I got the book for Christmas.
And by Boxing Day, I'd read the whole thing.
The novel is like a roller coaster, powered by fury, and the reader is flying by the seat of their pants from the first few pages. Fleishman of the title is Toby Fleishman, a successful doctor whose success will never compare to his high-flying talent agent wife's—they're getting divorced anyway. And New York, in the decade and a half since Toby was last single, has become a city packed with women who are seemingly desperate to have sex with him, which is certainly novel. It's almost enough to make him get over his long time body image issues and insecurity due to his (lack of) height—but not quite.
But when Toby's ex-wife, Rachel, drops off his kids one night and disappears, it puts a cramp in his style, not to mention makes arranging childcare difficult at a pivotal moment at work—Toby is up for a promotion. And this is just one more crime to add to the list of unforgivable things that Rachel has done over the course of their life together. Rachel, it seems, is a heinous bitch.
Sounds straightforward enough, right? And this novel starts off in the tradition of legendary male authors whose smutty books about fragile egos, hissy fits, and emotionally tumultuous love affairs about got to be literature because their narrators had penises. But then something strange happens, which is the appearance of a first person narrator who has been telling the story of Toby Fleishman all along. Like a reporter, even, which is not so surprising when it emerges that the narrator is the most unobstrusive Libby, a friend who'd met Fleishman twenty years before on their year abroad in Israel. And now, after many years and post-break-up, Fleishman has reached out to his old pals to help absorb the shock of his new life. Libby is, in fact, a reporter who finally quit work after the birth of her second child and has settled down for stay-at-home momhood in the supports, a situation which she is, shall we say, conflicted about. But where exactly is Libby coming from?
And this, sneakily and strangely, becomes the central question of the novel, which also eventually comes to fill in the mystery of where Rachel has been in her weeks-long absence, after Libby runs into her in a bagel place looking strangely dishevelled. A novel whose furious narrator writes about the invisibility of women, and how nobody ever listens to women's stories anyway, unless there's a man at their centre.
Which is shocking and profound, and the reader is implicated in this in the most terrific way, and the resolution to all this is never going to be tidy. It's not simply a matter of Rachel's story setting the record straight, or Libby even being capable of being objective about the situations she's been presented with, because she has her own agenda. The peculiarity of this novel, an odd three-headed beast, being that it's not one person who is the victim here, or even everyone. Or maybe it's that it's everybody and no one, and that life is too complicated for such obvious designations, and journalism often doesn't seem up to the task of addressing these matters these days, but maybe here is where fiction comes in.