January 15, 2020
Marching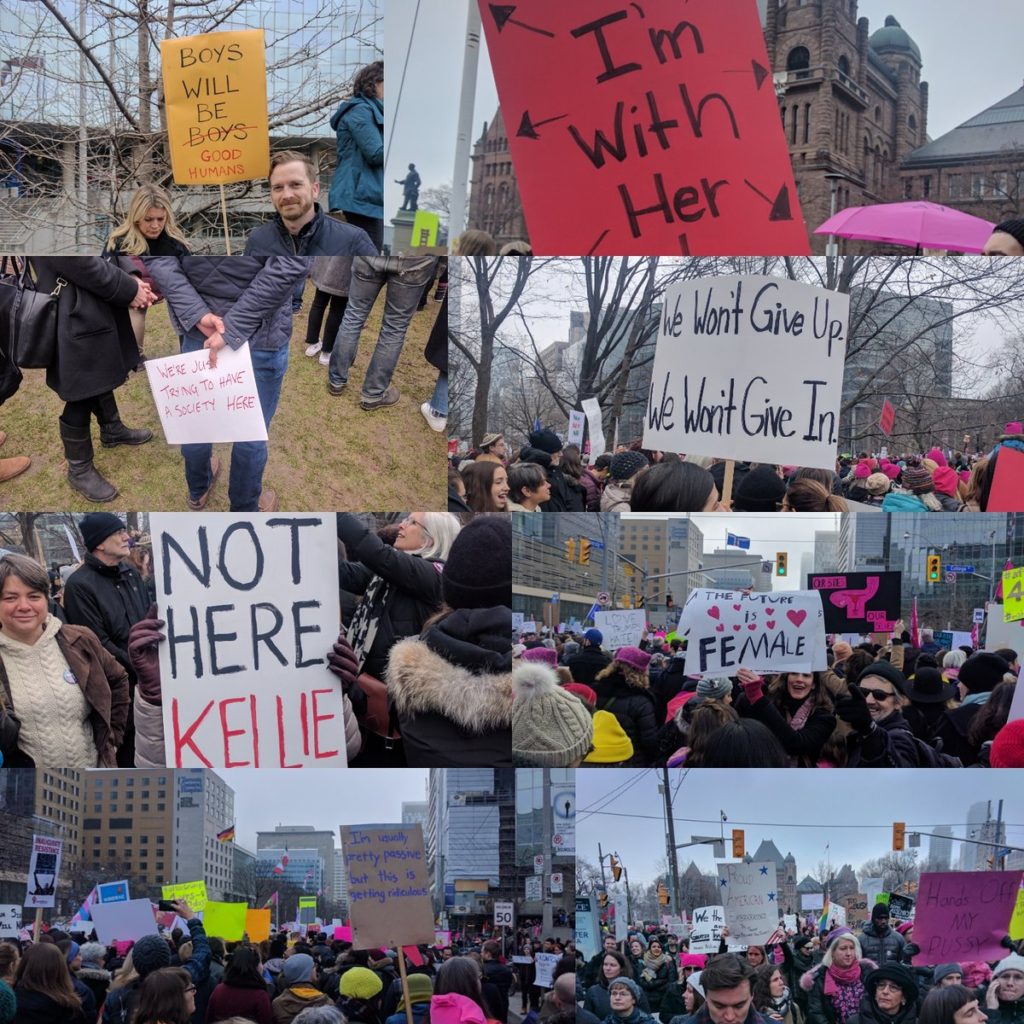 I don't know that so much has really changed since that November night back in 2016 when I'd baked a Hillary Clinton victory cake in determined optimism. ("And if she loses," I'd decided, "at least we'll have cake." But that cake tasted terrible.) The only really substantial change has been that I've since had my eyes opened to the realities of the world, to the fact that people in general are less kind, wise and curious than I used think we were, and it had been my privileged position to exist without having to know that.
But one more thing that's different—these days I also keep a collection of broomsticks on my porch.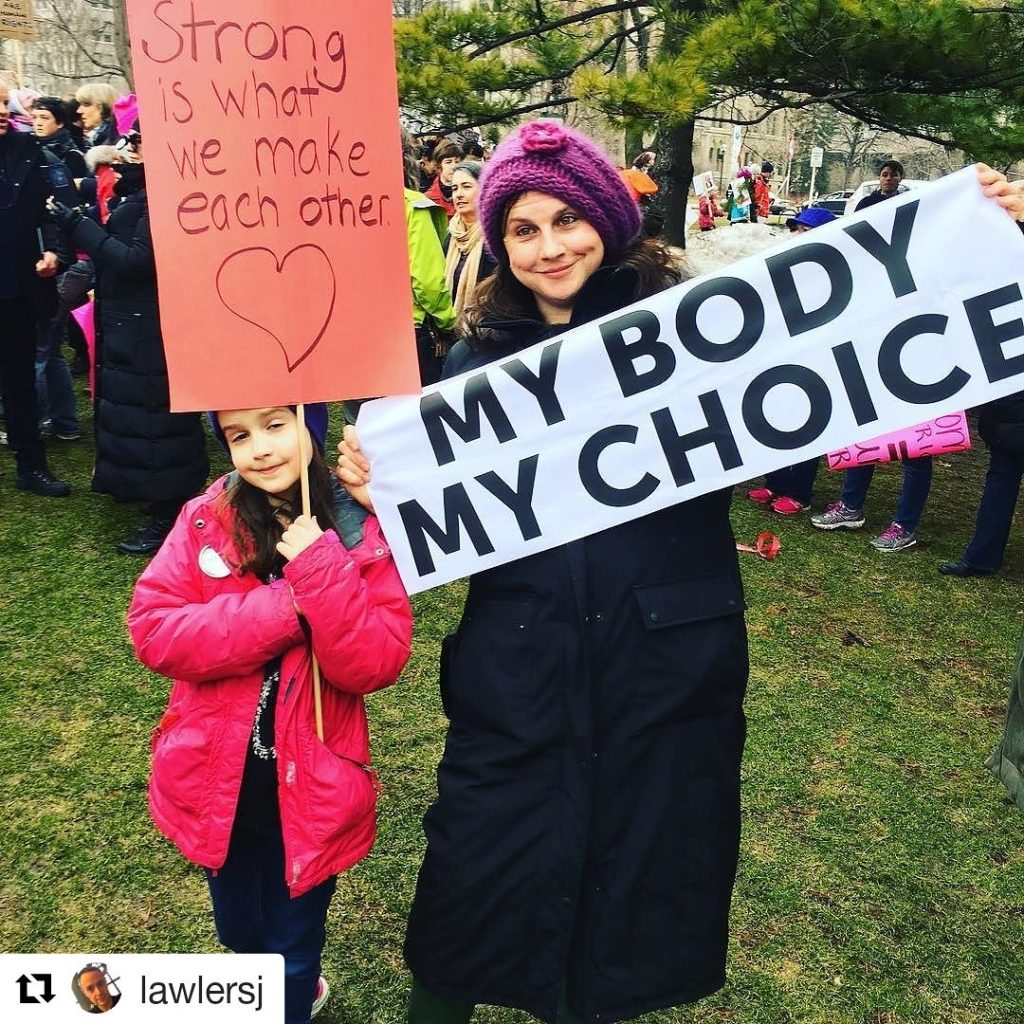 The broomsticks are fitting really, because most of us haven't heard this much about witch hunts since the 17th century, although our family doesn't use our broomsticks for flying. (At least, not yet.) Instead, our broomsticks are for marching, which was an altogether new experience for us as we joined tens of thousands of people at Queen's Park on that mild January Day for the 2017 Women's March. As we walked through our neighbourhood holding our signs (duct-taped to said broomsticks, and also a couple of dowels I'd picked up at the hardware store), it already felt like a parade, neighbours leaving their houses holding their own signs, passing cars honking their support.
I remember the ground softened by mild temperatures, my green rubber boots going squish in the mud on the lawn at Queen's Park, and how it seemed like everyone we knew was there. And how everyone who wasn't there was out on a similar march in cities all around the world. I remember feeling hopeful for the first time in months, and that maybe we weren't so alone after all, and good things were possible. People spread out as far as I could see in all directions, an endless horizon of humanity who'd come out to stand up for social justice, and perhaps all was not necessarily defeat.
The Women's March was originally cast as a failure, even before it had taken place. In the weeks before the event, as there were struggles about organization and inclusion, so many pundits and cynics declared it just so, but the march itself defied them. The march itself, of course, being the team of organizers on the ground that organized events in towns and cities all over the world, in Toronto, in my particular case. And I don't know that I will ever be able to properly be able to express my gratitude to those organizers for what they gave all of us that day, for that light in the darkness. For rekindling some hope, and making us feel part of something bigger and stronger than tyranny or authoritarianism.
In spite of an event that broke all precedent (and almost broke the president!) and managed to set records and change the world, the narrative of the Women's March being fraught would continue to be perpetuated. There was a breakdown between an administrative body and local grassroots organizers. There was controversy among those who'd been figureheads of the March in the US. Subsequent marches did not bring out the same numbers. In 2020, in Toronto, there would not be a march at all.
And yet.
Three years later, there is that collection of broomsticks on my porch. Since January 2017, when none of us had ever marched in the street before, or ventured outside with a political slogan on a button, let alone a placard, we've pulled out our signs and demonstrated to show support for refugees in Canada, and for International Women's Day. I've joined small demonstrations of strangers to counter anti-choice protesters on the sidewalk. We've taken part in Fridays For Futures, strikes to stand up for climate change action, and I've even organized rallies against education cuts in our school community, and joined our neighbours back on Queen's Park to stand with Ontario education workers. In the two years following January 2017, we all marched in the Women's March again—last time in the midst of a blizzard.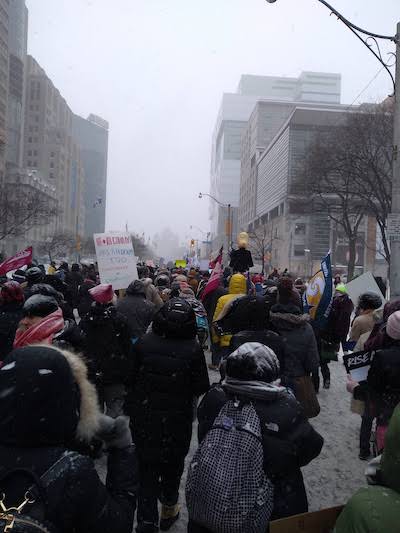 I am not an activist. I say this not because I don't respect activists, but because I do, and I don't want to take credit for any of their work on account of a handful of broomsticks. Although what is an activist anyway, but an ordinary person who cares about things and is willing to make a stand for a better vision for the future—which is the kind of people we resolved to be in the aftermath of that terrible night, as we choked down the crumbs of that very sad cake.
I've been to enough demonstrations by now to be less delighted by old women who can't believe they still have to protest this shit, or the ones who'd been buried but no one knew they were seeds. But I still believe in seeds—I do. And I know the seeds planted on that January day three years ago will continue to bloom in years to come. I know that the Women's March, for so many of us, was a political awakening to our responsibilities as citizens and neighbours to help build the kind of world we want to see.
The Women's March has ended—but it was only supposed to be the beginning anyway. And now the rest is up to us.