January 7, 2020
MAKE THE LEAP with Blog School!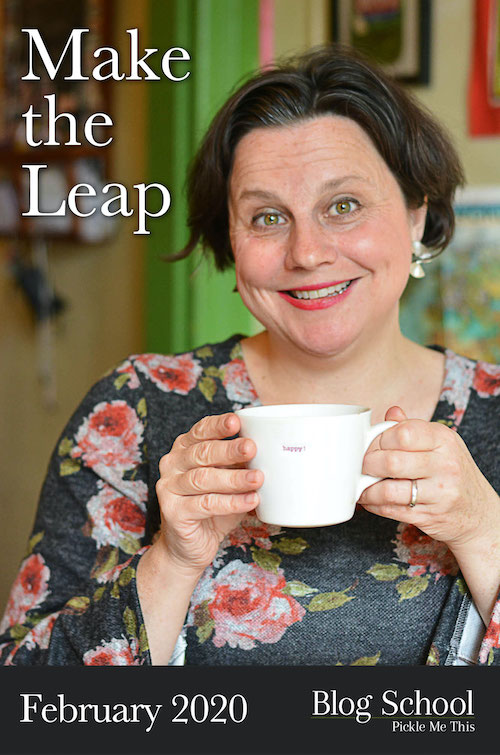 In September, I launched BLOG SCHOOL: PICKLE ME THIS, and my first offering was a self-directed blogging course called FIND YOUR BLOGGING SPARK.

Self-directed, I thought, because self-direction permits bloggers to work at their own pace and convenience. A self-directed course, I figured, meets a writer where she's at.

And it does!

But there are some people looking for a little more direction than the self can provide, who thrive on goals and deadlines, plus the community support essential in getting 'er done.

And these people have been asking me for a different version of the FIND YOUR BLOGGING SPARK course, an intensive, community-based, guided and interactive version where students can ask questions, get feedback, work to goals, and benefit from community support.

What You Need to Know:
Course is online (via private website) so that you can study at Blog School from wherever you are
Course is interactive, so you can ask creative and technical questions via email and receive feedback on your work
Community components will take place on a private Instagram page, so that it's easy and straightforward to take part
Course enrollment is capped at 10 people so that the group is neither too big or too small, but just right
Modules themselves are self-directed so you can take part (with two modules with be completed per week) according to your own schedule
Course takes place throughout February 2020 so that you can stay focussed and excited about your project, which you'll complete with momentum to build on
Each module includes a writing exercise to generate ideas for future blog posts
Each module features a writing assignment so that you will complete the course having 7 new blog posts published
Modules are structured as blog posts so you can get comfortable engaging with the blog format within the course itself
Each module comes with optional further reading to inspire you with the work of other bloggers and creative people.
Cost: $300.00 CDN

*Three spaces will be available for $80 for students who are already enrolled in the Find Your Blogging Spark Program.