December 9, 2019
Girl, Woman, Other, by Bernardine Evaristo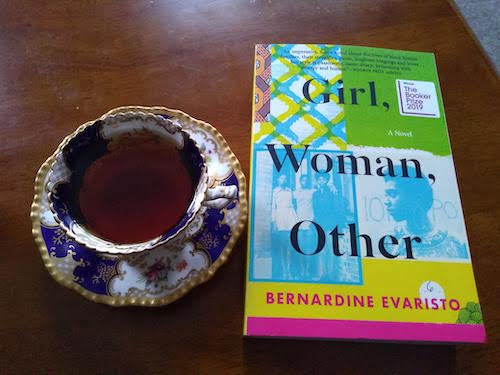 It's so good. It's that simple. Girl, Woman, Other is the first book by Black woman to ever win the Booker Prize (a long time coming, right?) and so you should read it, but you'll also want to . You will start reading and not want to put this book down, and in the meantime you'll be raving about it to strangers on the streetcar. That is, if your experience is anything like mine.
Evaristo has explained the style of the novel as "fusion fiction": "that's what it felt like, with the absence of full stops, the long sentences. The form is very free-flowing and it allowed me to be inside the characters' heads and go all over the place – the past, the present." Ostensibly about a single evening in London as a play by a Black lesbian playwright opens at the National Theatre, the novel spans the twentieth century, moves between communities in Britain, Africa and the Americas, and tells the story of twelve central characters from birth to death in a few cases, and in others to the present day. It's a novel "about Black womanhood," but what falls under that umbrella is wide-ranging, kaleidoscopic, diverse and disagreeing in the most fascinating way. This is a novel that's rich with twists and connections, and surprises.
The characters include Amma, the aforementioned playwright, who recalls her radical days in contrast to now being considered establishment (or as much as a Black woman could ever be); her daughter who must find new ways to rebel against her counterculture parents; and her longtime friend and former collaborative partner, who fell in love and moved to a feminist commune in America where she becomes trapped in an abusive relationship.
The connections are not always clear at first—Carole, a superstar in the world of finance, is attending Amma's play, but she's part of the tapestry in other ways as well, and so is her mother, Bummi, who steers the following section, telling the story from her youth in Nigeria, her immigration to England, the death of her husband, and her determination to build a business and succeed—as well as her disappointment at how her own daughter's success has put distance between them. And then we meet LaTisha, once upon a time Carole's classmate, but her life took on a different kind of trajectory.
Amma's childhood friend, Shirley, who teaches unruly youths at a London school, who started out teaching with big dreams and great ideals, which become ground into nothing after working through the Thatcherification and bureaucratization of teaching and society in general in the 1980s. And Shirley's mother, Winsome, whose own story comes with a surprising twist, and Penelope, Shirley's colleague, who's got one of her own.
And then a non-binary social media influencer, Morgan, and their great-grandmother, Hattie, who lives on the family farm near Newcastle, and her own mother, Grace, which takes us to long before and far away from the opening night of Amma's play, but everything is connected, in satisfying and illuminating ways.
That a single novel can hold so much is extraordinary —and that it can do it while being stylistically innovative and so joyful to behold is even more so. Girl, Woman, Other is magnificent, and honestly, it's the only Booker winner you need.