December 3, 2019
Ducks, Newburyport, by Lucy Ellmann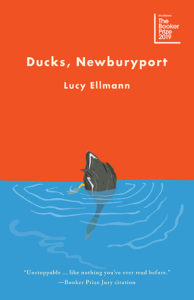 "Well, there's a book I'm never going to read," was my first thought upon hearing about Ducks, Newburyport, by Lucy Ellmann, the 1000 page book consisting of (mainly) a single sentence, shortlisted for the Man Booker and winner of the Goldsmiths's Prize. Because you know how there are people who carry about tote-bags that say, "I like big books and I cannot lie?" I am not one of those people. I don't like big books, not at all, not because of the heft necessarily (check out my own tote-bag, where I'm often carrying no less than three hardcovers at a time. I can lug book weight), but because for me so much of the pleasure of reading is thinking about what I'm going to be reading next, and the same book for weeks at a time slows me down, makes me feel like I'm standing still. Long books don't fit easily into the pattern of my life. It's also a huge demand to make of a reader as well, 1000 whole pages, and I'm usually irritated by anybody who'd dare to ask it.
You can keep Your Struggle, buddy. I've got enough of my own.
The shift began from Twitter commentary, however . (Yes, it turns out Twitter has a purpose after all.) Steven Beattie tweeted that it read up quick, and by the time Biblioasis Publisher Dan Wells had sent me an email promising that this would be a novel right up my street, I'd already started reading it.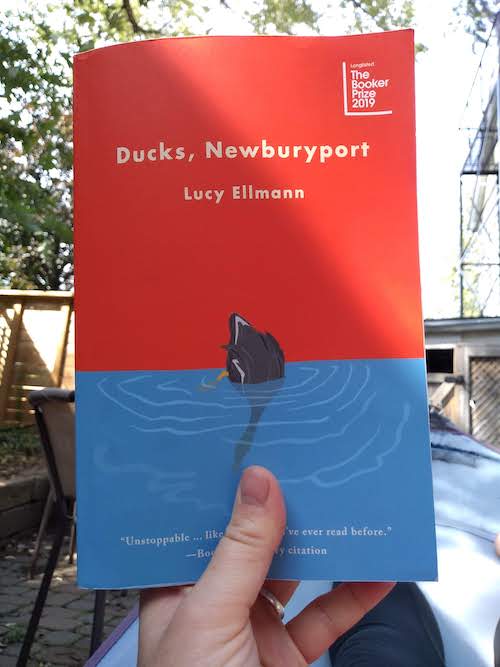 With Ducks, Newburyport, I did what I always do with huge and overwhelming challenges, which is that I broke it down into manageable pieces. Though I have heard others making a solid commitment to the novel, going in for the long haul, and they report enormous pay-offs, because it's an amazing novel, and what a thing to give it one's entire focus. But that's not the reality of my reading life right now, where focus gets spread thin, and there are so many other books I have to read in the meantime, so instead of going all in for Ducks, I committed to reading 5 or 10 pages every night, and I liked that it was the kind of book that was easy to dive in and out of again. If I'm going to read 1000 pages, this is way I would like it to happen. It's give and take.
And so it took me three months to read it, as opposed to binge-reading, and this has had a curious effect on my life. As though Ducks, Newburyport was like a plant with amorphous tendrils, and as I read, they crept their way into every facet of my life, until I was no longer sure where I ended, and Ducks, Newburyport began.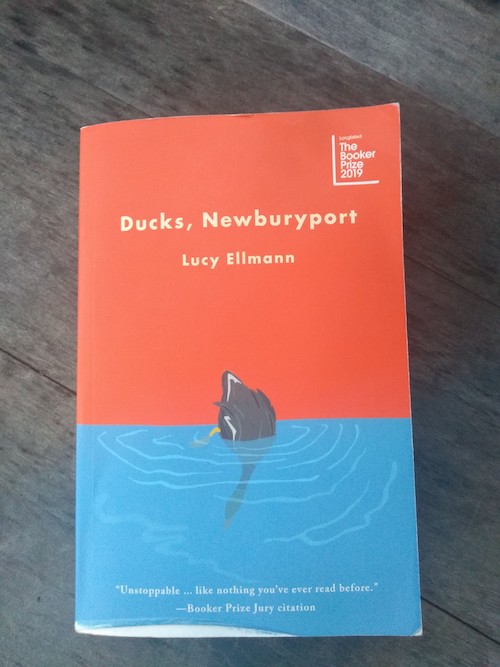 "That's a lot like Ducks, Newburyport," began to be the thing I said at parties, or on Twitter, no matter the topic, really, because everything is a bit like Ducks, Newburyport. Or perhaps what I mean is that Ducks, Newburyport is like life itself, which is the point of the exercise. Somebody talking about how they can never remember the word for nasturtiums, and maybe the unnamed narrator of Ducks, Newburyport had been talking about hydrangeas, but such distinctions mattered as much as the distinction between fiction and life. Everything was blurry.
It's not accurate to say that this book is a single sentence, clauses conjoined by commas and the phrase "the fact that" to form the stream of consciousness of an Ohio woman baking pies and cookies in her kitchen, because to say this would be to forget about the parts of the novel that are written from the perspective of a cougar. Or a mountain lion, "the lioness." What kind of novel is this anyway?
It's the kind of novel that's concerned with ordinary things, the mundane, the domestic. Except what does it mean that among these things ordinary and domestic are mass shootings and domestic homicides, a lunatic president and the rise of ethno-nationalism? These things melding in with the other, as our unnamed narrator caramelizes apples for tartes tatin, and fails to avoid painfully stepping on her son's plastic toys, and worries about her distant teenage daughter, and thinks about the amazing fact of her love for her husband, never mind the sorry state of her libido, especially since her recovery from cancer not so long ago, rotting window frames and the guilt she feels for her failure to be a proper parent to her four children at the time, and she's still not over the death of her own mother, and how their whole family fell apart during the years her mother was ill, and now her husband works so hard, is often travelling, and she adds to their income with her home baking business, because they're broke after all her healthcare bills, supplying local shops and restaurants, her labour too blurs boundaries, both paid and domestic. And undervalued all of it.
Oh oh my gosh, the popular culture, classic films, and Meryl Streep and Dustin Hoffman (and how he was mean to her during Kramer Vs Kramer, when she's a better actor than she'll ever be), and the passages about Julie & Julia ("only we hate the Julie bits…") and so much ruminating about Little House on the Prairie (as you do…), and bridge building (her husband, Leo, is an engineer), and musical theatre, and Harrison Ford and Witness, and the bee at Bread Loaf. Always, the bee at Bread Loaf, and we never actually learn anything about the fact of the bee at Bread Loaf, but other parts of the story we begin to be able to put together, puzzling out, like who is Abby, and her first marriage to Frank, and what happened to her mother, and the fact of the ducks at all. And Newburyport.
And oh, the angst of baking, her worries about sending these goods out into the world never sure that they've turned out successfully, because the proof is in the eating, and you can't control it all. She's got a freezer packed with failed experiments in lemon drizzle cake, not bad enough to be abject disasters, but not good enough to sell, and she feels guilty subjecting her children to it. Children are never enthusiastic about lemon drizzle cake anyway, the lack of frosting. Who's actually enthusiastic about lemon drizzle cake anyway? Lemon drizzle cake existential angst, I mean. I've never felt so seen before. The kind of stuff that keeps me up at night.
There's a chicken coop, and pets, and time passes, weeks and months, and in the breaks, the lioness wanders with her cubs, on overpasses and through thickets, across backyards and down into ravines, and she would like to keep her distance from humans, but she cant help it, and she becomes separated from the cubs, who are taken away in a truck to the Columbus Zoo.
Ohio is a funny place, not so different from the stories about the Florida men, really. Insane abortion laws and women kept captive in basements, and fact and fiction blurs too as our narrator recounts the stories she's heard, news headlines. Some of them true, but it starts to feel like all of them are factual, because everything else in the novel is so familiar after all, that it becomes uncanny how much of it is not uncanny, when possibly it should be. What does it say about the world we live in (and all of us, in general) if it isn't?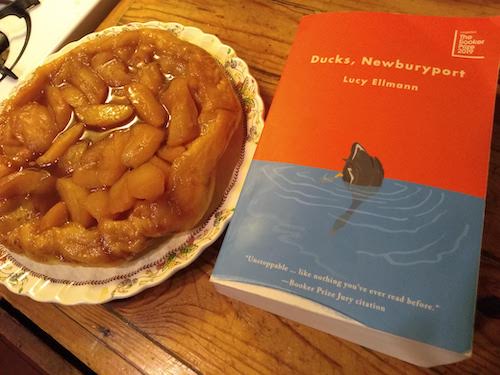 Against this backdrop of her stream-of-consciousness, a lot actually happens, although you could almost miss it, because the tone of the narrative never changes whether she's concerned about puff pastry or is actually imperilled. She gets stranded in a snowstorm while out delivering pies, and takes her family to a mall whose parking lots entrance is washed away in a flash flood (which is the kind of thing that happens now, in Ohio and elsewhere), and then her daughter goes missing, seemingly every mother's worst nightmare, save for another one which she comes face-to-face with by the novel's end. But no spoilers…
Is there such thing as a pre-apocalyptic novel, was a thing I wondered as I read this book, an ordinary story with such ominousness at its margins, and creeping ever-closer, which is pretty close to how it feels sometimes to live in the world right now.
It was a commitment, this book, even if the smaller pieces I broke it into, and the other night as I finished it, I could not quite fathom what it would be like to not have this book sitting on my bedside. Three months is a long time, a quarter of a year, and as I read this novel, weeks went by, the season changed, we celebrated holidays and birthdays, had a federal election, I baked tens of dozens of muffins, and now the book itself feels indelibly connected with all of it.
This novel's outsizedness, its audacity, is a statement on the curious proportions of life itself. What gets to be an epic? The fact that (as she'd put it) I might have spent more time ruminating on a disappointing drizzle cake than yesterday's mass shooting; climate change and (not or) a teenage daughter's petulance; saving the world and raising one's children; a single person against the enormity of the human population—it's all enough to make you go cross-eyed, to be honest. How do you understand it all, attempt to contain it all?
With this novel, however, Ellmann gets come close. A book that seems like a feat of endurance, at first, but turns out to be so much more than that.