November 13, 2019
Agnes, Murderess, by Sarah Leavitt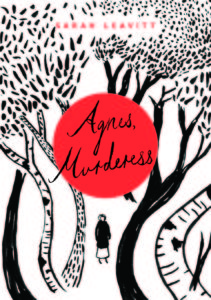 "When Did Everybody Become a Witch" was the title of an article a friend sent me a few weeks ago, a friend from my coven, no less, and I was still thinking about the article on Halloween night (of course) when I settled down to read Agnes, Murderess. The second book by Sarah Leavitt, whose first was the acclaimed graphic memoir Tangles: A Story About Alzheimers, My Mother and Me, this one tells the story of Agnes McVee, a legendary 19th century serial killer who ran a roadhouse in 108 Mile House, BC. A woman of whose actual existence there is no evidence, except for a self-published pamphlet by an amateur historian from 1973.
"I have thus felt free to reimagine Agnes's story from her childhood to her death," Leavitt writes in her book's afterward, and the whole book becomes an exploration of storytelling and myth making. It begins on an island in the Scottish Hebrides, where young Agnes lives with her grandmother, who really does seem to be a witch, and her mother, who was stolen away from a genteel life in London by a seafaring man who brought her to his home and then disappeared forever. For reasons that might be familiar if you've ever read stories about witches, Agnes and her grandmother are not too popular with the local townsfolk, though she finds an affinity with a young man from the village, and together (desperate times call for desperate measures) Agnes and Seamus find a way for her to escape her grandmother's yoke and head off to London together. But it turns out that her grandmother wasn't Agnes's whole problem after all, or maybe she was because Agnes senses the woman's presence still haunting her, stirring her, pulling away from the kind of life she is striving for. A life which she glimpses further through a friendship with an upper-class woman who gives her books to read and the companionship she's looking for—and then a humiliating betrayal changes everything, cementing Agnes's trajectory toward a life in Canada and, yes, punctuated by acts of murder.
It's a complicated story, with everything queered—not least of which is the line between truth and fiction. Is Agnes a villain? And if she is, what does it mean that she might have our sympathy? Are we, too, bewitched? And what does it mean that these stories of transgressive women at our particular moment in time? Most interestingly, Leavitt leaves these questions unresolved. As her drawings are simply sketched, so too is the story, providing plenty of room in which the reader can sit uneasily.