October 10, 2019
The Girl Who Rode a Shark, by Ailsa Ross and Amy Blackwell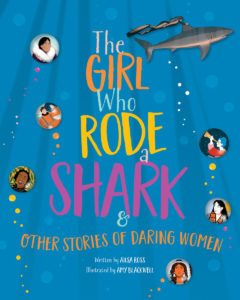 I'm not yet bored of stories of brave and uncommon women, and this is not even a genre that began with Good Night Stories for Rebel Girls. Virginia Woolf published several biographical essay throughout her career—it was from "Lives of the Obscure," in The Common Reader, that I learned about the Victoria entomologist Eleanor Ormerod, for example, and without Woolf we wouldn't even know about Shakespeare's Sister at all. Truth be told, I actually found Good Night Stories... a bit wanting…but that's because I'd read Rad Women Worldwide before it, and liked it so much better.
But another similar book, The Girl Who Rode a Shark, by Ailsa Ross (who lives in Alberta!) and Amy Blackwell, has managed to live up to my expectations. My favourite bit is the Canadian content—we're almost at the Roberta Bondar essay. And Indigenous hero Shannon Koostachin is included in "The Activists" chapter.
The women profiled in the book come from places all over the world, include many women of colour, and also women with disabilities. Even better—while many of the profiles are of historical figures, just as many are contemporary, young women who are out there doing brave and groundbreaking things as we're reading. A few of these figures are familiar, but more are new to us, and their stories are made vivid and compelling through the book's beautiful artwork and smart and engaging prose.