October 2, 2019
It Began With a Page, by Kyo Maclear and Julie Morstad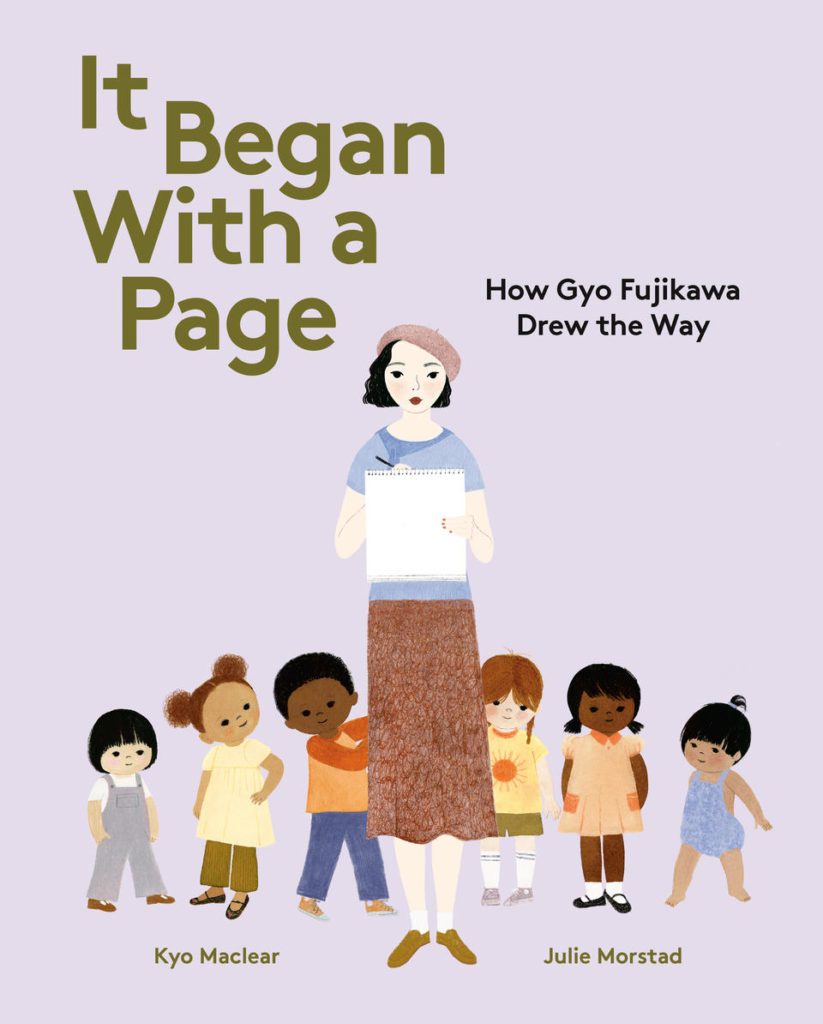 It Began With a Page, the new picture book collaboration by Kyo Maclear and Julie Morstad—who are already known for their picture book biographies(ish) of Julia Child, Elsa Schiaparelli, Anna Pavlova (illustrated by Morstad, written by Laurel Snyder), and Virginia Woolf (written by Maclear, illustrated by Isabelle Arsenault)—has everything. And to have Kyo Maclear, a leading Asian-Canadian author writing about THE pioneering Asian-American children's author/illustrator, with illustrations by Julie Morstad who does such justice to her source material. Which is, of course, Gyo Fujikawa's babies, an adorable array of little people from different ethnic backgrounds, all playing together—Fujikawa has clearly been an inspiration to Morstad since the beginning of her career. But what contemporary readers might not appreciate until reading It Began With a Page—which tells Fujikawa's life story—is that it wasn't long ago that picture book illustrations of children with different skin colours all playing together was revolutionary, and before that even not condoned.
Which is a convenient metaphor with which to tell a story of a society in which, just say, people from a certain ethnicity have their land and belongings confiscated and are sent to concentration camps. Although Maclear eschews metaphor altogether here, and sticks with the facts: "In early 1942, terrible things were happening. Bombs and gunfire rocked the world. America was at war with Japan. Kyo was shocked to discover that anyone who looked Japanese or had a Japanese name was no suspected of being the enemy… Gyo's family was sent to a prison camp far, far away from their home."
But first: "It began with a page, bright and beckoning." A five-year-old girl with a pencil in her hand. "The dance and glide of a line. How a new colour could change everything: a bright splash of yellow, a sleep stroke of blue." The girl fills her pages with drawings, and as she grows older, her talent is natured by a supportive teacher who pays for her art lessons Gyo Fujikawa is one of the few girls, let alone Asian-American girls, who goes to college in 1926. She travels to Japan, her ancestral homeland, to learn about the tradition of Japanese brush painting, and after she returns to America gets a temporary job designing books at Walt Disney's studio in New York. Which means she is far away from her family when the Japanese internment takes place, but the distance only increases her heartbreak at what is happening in her country.
After the war, Fujikawa continues to work as an artist, and Maclear shows her awareness of the dawning civil rights movement. "Still, there was so much that hadn't changed. At the library and bookshop, it was the same old stories—mothers in aprons and fathers with pipes and a world of only white children."
But when Fujikawa submits her manuscript featuring "Babies! Chubby cheeked, squat-legged, bouncy-bottomed babies," the book is rejected. "No to mixing white babies and black babies. It was not done in early 1960s America, a country with laws that separated people by skin colour."
Fujikawa, however, does not give up on her vision. And eventually, the book is accepted, and is a huge success, the beginning of an incredible career for this illustrator whose drawings would create "a bigger, better world."
The story includes a timeline of Gyo Fujikawa's life, and photographs, and a note from Maclear and Morstad to readers about Fujikawa's legacy ("Gyo as a TRAILBLAZER…and a RULE BREAKER") was and how her family supported this book (Fujikawa died in 1998), providing access to stories, photos and archival materials.