September 4, 2019
Trick Mirror, by Jia Tolentino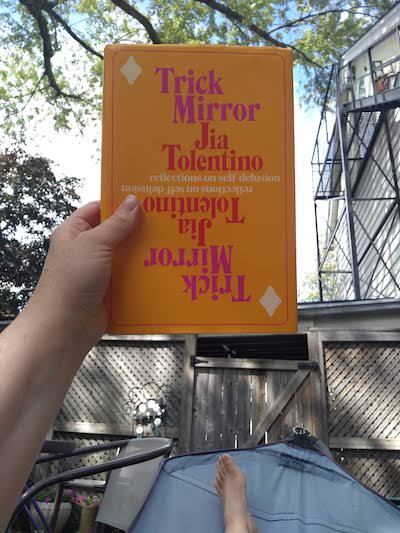 I don't think I'll ever be ready to write a post about Jia Tolentino's essay collection Trick Mirror, but I was set to do some preparatory work before I did. Because these aren't essays that I'm finished with yet, or completely understand properly. These aren't blog posts or hot takes that have been churned into book—these are essays 40-50 pages long, and one concludes with, "I wish I had known…that the story didn't need to be clean, and it didn't need to be satisfying; that, in fact, it would never be clean or satisfying, and once I realized that, I would be able to see what was true."
I am still trying to puzzle my way through her incredible "The Cult of the Difficult Women," which explores the way that Daring Girls pop-feminism becomes weaponized for anti-feminist purposes—"But when the case for a woman's worth is built partly on the unfairness of what's levelled at her, things get slippery…" My OOF moment in "Pure Heroines," about literary girlhoods and the limits of literary womanhood, rich for me with familiar points of reference, when she writes, "You'll have noticed—surely, you'll have noticed, though I don't want to be too generous—that all the characters in this essay are white and straight."
These essays are trickier than most others I've ever encountered, pulling away and pushing on just when you think they're settled, and resisting tidiness, easiness. So that the reader comes away with their mind still spinning, work to be done. Tolentino offers no conclusions, resolutions. She is not going to do the work for you.
I read a review recently that focussed on the bleakness and despair in these essays, works that make connections between the Fyre Festival and the 2008 financial crisis (and GirlBosses) and a culture of scamming: "There are fewer and fewer options for a person to survive in this ecosystem in a thoroughly defensible way."
But bleakness and despair was not my takeaway from Trick Mirror, the title a statement on the nature of true and reality, delusion and self-delusion. How do you know when what you see, or what you are, is real? And just when you think you've got it settled, it's gone and changed again. And bleakness and despair was not my takeaway because it took me almost two weeks to finally buy this book, which was sold out at every bookstore I showed up at. And if the demand is so high for these rich and erudite works, essays that aren't going to fucking let you get away with it or get away with anything… The way I feel every time I see the way that someone (usually Ali Smith) has made something so artful for these torrid time we're living in—oddly hopeful, even. Not all yet has been lost.