August 27, 2019
The Need, by Helen Phillips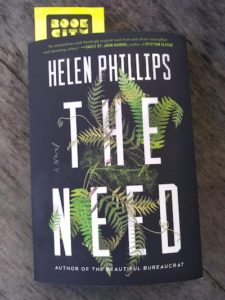 "She and David had a running joke about how they both feared their kids at night the same way that, as children, they'd feared monsters under the bed. Beasts that would rise up from the side of your bed, seize you with sharp nails and demand things of you."
I've been hearing things in the night for my entire life, the sound of footsteps, or maybe the house is just settling, or the sound of the wind outside. What was that? But it's only since I've become a parent that I actually see things, that I awake from sleep with the uncanny feeling of someone standing over me, and I open my eyes and there they are, my worst fears confirmed. (And the fear, I mean, is in addition to the practical matters, that these nighttime visits are generally a harbinger of the fact that I'll have to clean up puke.)
In her novel, The Need, Helen Phillips zeroes right on this kind of anxiety (albeit regarding an even more sinister nighttime interloper) in the book's first three sentences: "She crouched in front of the mirror in the dark, clinging to them. The baby in her right arm, the child in her left./ There were footsteps in the other room…"
Molly's husband, a musician, is away on tour, and she's just relieved the babysitter. She's the primary breadwinner in the family, a paleobotonist who works at a site that's turning up baffling specimens: plant fossils that don't seem to related to any other living thing on earth, an Coca Cola bottle whose logo slants backward, a Bible that addresses God as "her" and "she."
Something is askew, but also everything is askew, because Molly has a baby and a toddler, which means she hasn't had a proper night's sleep in years, and her hours are consumed by her children's near insatiable needs and demands upon her. So there is something metaphorical about the otherworldliness Molly is experiencing at work, and we're to doubt her perceptions—are there footsteps at all?
But the footsteps are real, and the stranger in the other room wearing a deer mask has a bizarre awareness of Molly's family's life and their rhythms—and the reality behind this situation turns out to be nothing like what you've expected, and it continues to be questionable how much the reader can understand this as "reality" at all.
This is a novel in which everything is true and possible, and nothing is; where a child's birth and existence contains the possibility of their death; where doubleness is a solution and a nightmare; where the cessation of what seems unbearable is unsurvivable; and where the figurative and literal do battle, as do the fantastic and realistic; and ambivalence has its every nook, cranny and sub-basement explored.
This novel starts off terrifying, and the way Phillips sustains that suspense (moving back and forth between two timelines, plot, twists and pacing) is astoundingly well done. Though I will admit that by the time my biggest questions had been answered (which only invited plenty more questions still, of course) I was less enveloped by the plot—though probably for the best, if we're thinking about my blood pressure.
All this with a novel that articulates the minutiae of daily life with children like nothing I've ever read before, a twisted and brilliant version of Rachel Cusk's A Life's Work.
And then the ending—so dark and banal at once. So subtle that you might even miss it, but the subtlety—of the violence, the brutality, that you could miss it—is the point. The Need is a fast read, but it's haunting.