August 12, 2019
Crime Fiction Round-Up
One Small Sacrifice, by Hilary Davidson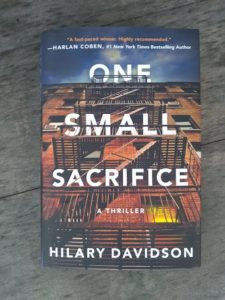 It took a bit of time for Hilary Davidson's latest to grow on me, mostly because the novel begins after a lot of the story has already taken place. War photographer Alex Traynor escaped conviction after the death of his friend a year before, but Detective Sheryn Sterling has had her eye on him—and when his fiancee goes missing, Sterling is desperate to find her and finally get this dangerous character off the streets where he belongs. But of course, the reality of the situation turns out not so straightforward after all, as sections of the book from the point of view of Alex and his fiancee make clear. Even more difficult, Alex suffers from the effects of PTSD and isn't entirely sure he can trust himself after suffering from blackouts. But once the novel got going, I was totally hooked, and there were plenty of twists I never saw coming. New York City also makes for a spectacular setting (that cover, right?) and Davidson evokes it so well. I really loved this one.
*
A Dance of Cranes, by Steve Burrows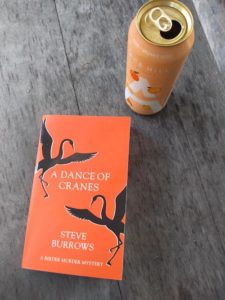 Can you believe I've been reading the Birder Murder mystery series for six books now? Never a disappointment, even if sometimes plot lines strain for credulity. (Shocking for a birdwatching detective series, right??) But I continue to adore these books, this one which starts off with Inspector Domenic Jejeune back in Canada and split with his partner Lindy (for her safety, of course, though he doesn't bother to tell her about that) but now Domenic's brother has gone missing in a vast and remote park in Canada's north (obviously, there are whooping cranes involved) and it's up to Domenic to rescue him, risking his life in the process. All the while back in England, Lindy's life continues to be in danger, but not for the reason everybody thinks it is (and obviously, there are cranes involved, though not necessarily whooping) and will romance finally blossom between Detectives Lauren Salter and Danny Maik? A fabulous instalment in a series that is reliably delightful.
*
A Better Man, by Louise Penny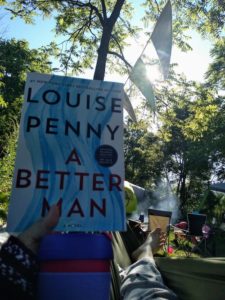 And speaking of reliable, the latest Inspector Gamache novel is a summer highlight for me every year, even through credulity often suffers the same straining. But reading Louise Penny while camping is my favourite thing, and I've been doing it for years now, for so long that I no longer believe that Gamache carries the scent of sandalwood, as the narrative asserts, but instead: he smells like campfire smoke. A Better Man stays close to Three Pines—rivers are raging and spring floods are high, putting the province of Quebec in peril. And then a woman goes missing, and her abusive husband just might get away with the crime. Gamache has returned to Head of Homicide after a demotion and is serving with his son-in-law, Jean-Guy, for one more case before Jean-Guy and family begin a new life in Paris. The personal and professional remain interwoven in this story, which was everything I look for in a Louise Penny novel. Reading it is truly a pleasure.