August 7, 2019
Get Excited and Make Things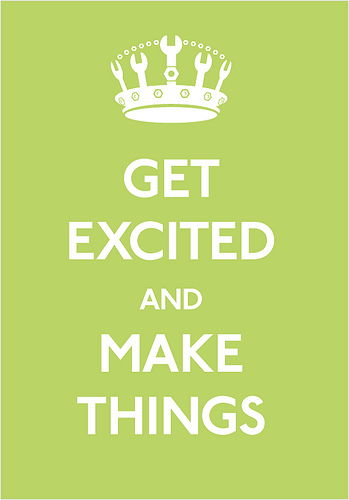 Once upon a time, we had a sign on our fridge that said, "Get Excited and Make Things," and I have no idea where it came from, but apparently the meme originated in a 2009 Will Wheaton blog post, and the sign was stuck on our fridge with a magnet for years. Coming down at some point, but the sentiment lives on, and I think it might have become our family motto, if the enormous piles of stuff on my children's crafting table are any indication.
But it's a sentiment I believe in, and one I clung to as I entered 2019 feeling somewhat dispirited, mostly because I didn't have much to feel excited about. Excitement is my driving force, and I didn't know what to do with the year that lay ahead, in which no plans and schemes were being hatched, so I decided to make some. I went back to the blog, remember? And I made Briny Books and Blog School (with the help of my husband who built the websites for both—it's a family motto, remember?), and now my little world is overflowing with things to be excited about, and I've got butterflies in my stomach perpetually.
And this is what blogging is all about, right? It's about making something out of your stories, experiences and ideas, a DIY aesthetic, making the whole thing up as you're going along and learning as you go. It's being a blogger that has given me the mindset to take on these new projects this year, figuring it all out as I go along, to not know the outcomes, but to have some faith in the path forward. Let's see how it all turns out, is the blogger's approach, which requires attention, curiosity, and a capacity for growing, learning, and—ideally—being excited all the time.