August 2, 2019
Mrs. Everything, by Jennifer Weiner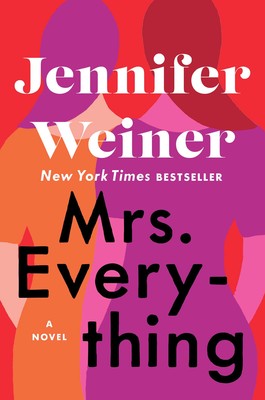 I had an oddly optimistic revelation about the world the other day—odd, because I haven't had an optimistic revelation about the world for at least four years—which was that when people look back on the literature published in the second half of this decade, they're going to be thinking, "Good gracious, the Patriarchy (RIP) on its last legs must have been quaking in its ugly boots."
Because the books are so feminist, and furious, confronting racism and violence against women. Fiction and nonfiction, commercial and literary—I promise I haven't been even deliberately seeking them out. But almost every book I've picked up this year, and certainly every one that I have loved, has been staring the patriarchy in the face and having none of it. Refusing to submit, to be polite, to keep things uncomplicated, to tolerate the status quo.
And in 25 years—after the current US president has been found dead on a toilet, the stupid red hats have disintegrated (cheap production will do that), and a few remaining rat-men have built an all-male colony out in the ocean on an island constructed from millions of copies of 12 Rules For Life (I would LOVE to know the number of people who bought that book versus number of people who finished it; is that why it keeps selling? Because the reader hopes a different copy might prove worthy of their attention?)—these books will be what remains of this time, the culture we made.
It's sort of like the illusion I once bought as a young person that the 1960s was only groovy and folk songs, instead of political assassinations, endless war, and racial violence. You know the expression, "You had to be there." In this case, it's kind of the opposite. It's even better if you weren't.
And this is the gist of Jennifer Weiner's latest novel Mrs. Everything, her thirteenth novel and her tour de force, a novel that reminded me of recent work by Meg Wolitzer and Lauren Groff. My one criticism that it started out unsteady, the story of a family in the 1950s whose American Dream is coming true, a mother and father and two daughters who've just moved into red brick house in Detroit. The characters are a bit stock at this point, the good girl and the bad girl, their disapproving mother, some manufactured drama…but then the novel starts going and it never stops.
What I love best about this novel is what I love best about any narrative that features more than one woman (which is the only kind of narrative I love at all, to be honest). That the women in the book are not foils, that their characters and narrative development is sufficiently complicated, and that their relationship is as much supportive as it is fraught. And such is the way with Jo and Bethie Kauffman, the two sisters who grow up in that house in Detroit. One is posed to be the good girl and the other is the problem, and then fate intervenes and neither one ends up on the trajectory that she, the reader, or anyone else imagines for her. Jo will become a suburban housewife, Bethie the counterculture rebel, but neither archetype is the whole story, and the whole story is mostly that there is no right way to be a woman. We live in a society that's going to mess with each and every one of us.
The novel takes the sisters from the 1950s through to the present day, and beyond, and its fabulous momentum builds as it goes. The sisters come together, are pulled apart, face heartbreak and trauma, keep going, keep learning and growing wiser all the time. This is a story of women, and civil rights, and the rise of LGBTQ rights as well.
The constants? Weight. It's not a theme of the book, but it's always in the background, as its always in the background (maybe not so far back) of the lives of almost every women I know. Feeling fat when you're not, and then actually being fat—is it not remarkable that women are able to feel badly about themselves no matter what their size? It's a fascinating narrative strand in the book. As is the idea of mothers wanting something different and better for their daughters than what they themselves have had to go through, but the thing about daughters (who are women, who are people) is that they don't always want to dream the dreams their parents dream for them, and they have to learn from their own mistakes, and also none of us want to entirely believe that we'll be subject to the same rules our mothers were. We'll do it different, this time, and we do, but some things stay the same, as Mrs. Everything serves to underline.
As Michele Landsberg explains in her book Writing the Revolution: "Because our history is constantly overwritten and blanked out…., we are always reinventing the wheel when we fight for equality."
But I would like to believe there is something different about the current moment we're in, when women are finally courageous enough to call out discrimination, abuse and violence, to finally call things by their names. Because in not being able to do so before, were we blanking out our own history, our own experiences? Doing the work of the Patriarchy for it, but no longer. I hope.
Mrs. Everything misses absolutely nothing.