July 19, 2019
Your Life is Mine, by Nathan Ripley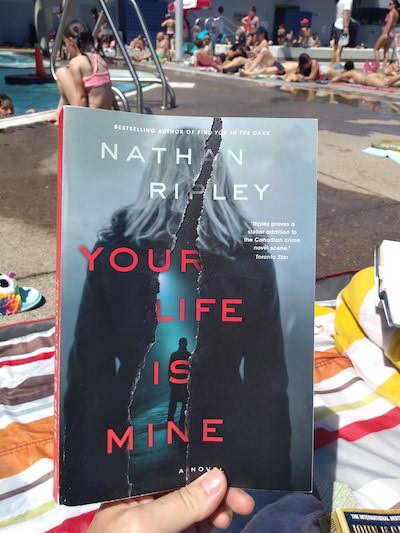 In two days, I tore through Your Life is Mine, Nathan Ripley's second novel, (his debut was Find You in the Dark), a book that got richer and deeper as its complex plot progressed. And isn't that rare? A thriller whose meaning intensifies as the reader gets closer to the resolution?
I loved it.
The protagonist is Blanche Potter, a documentary filmmaker who's just beginning to enjoy some success with a true crime feature, but she just can't escape the notorious true crime in her own history, no matter than it was years before and she's changed her name, and no one (except her best friend Jaya) knows who Blanche really is. That she's actually the daughter of cult leader Chuck Varner who died after a killing spree that Blanche was witness to as a young child. And Blanche would not be surprised if her father still has followers out in the world intent on carrying on his violent mission, because she knows from experience—she herself spent much of her life under by his spell.
Which is why the news of her mother's murder delivers Blanche some relief at first—one less tie to Chuck Varner, because Blanche's mother had never shed her devotion to the man or his message, and getting over having two such messed up parents has been the goal of Blanche's adult life. She even appears to be succeeding at it…except the news of her mother's death has been delivered via an aspiring writer who knows too much and wants Blanche to share her story. And he also reports that Blanche's mother's murder was a random act, but Blanche knows there's never been anything random about her tortured family life.
And so she returns to the scene of the crime, which is also the scene of her childhood, to find out who really killed her mother, and if the killer is likely to strike again. But is the whole thing a trap? It's hard to tell who can be trusted, least of all Blanche herself who has buried years of trauma which is now returning to the surface, threatening to upset the careful arrangement of her present, and she could even end up dead.
The narrative moves between Blanche's perspective, excerpts from a true crime book about her father's legacy, and other secondary characters whose roles in the story take a while to become clear. There's also a dodgy police officer, the sketchy guy who runs the trailer park where Blanche's mother lived, and the aspiring writer—what are their connections to Chuck Varner? Is Blanche just being paranoid? And what is the most terrible part of her story, the part she has not yet told to anyone?
The novel begins with a broad canvas, but the story gets narrower and narrower as it gets closer to the climax, and doesn't rely on all the usual tropes for this to work. One of my favourite characters in the book was the utterly effective police officer who comes equipped with a dose of humility, and actually listens to the protagonist—have we ever seen him in fiction before? And underlying the impressively crafted plots are all kinds of ideas about race and class, and gun control, cultism, misogyny and more. The story never stops being interesting, even as the pages are flying along.