June 20, 2019
It's Pretty Easy, Being Green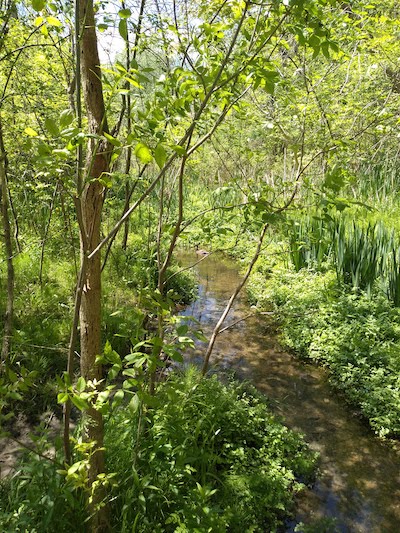 The following is a list of changes our family has made to our purchase habits and lifestyle over the past couple of years in order to live a greener life. I write them down here to inspire other people to follow suit, and hope you will leave a note with any other green habits of your own that I might be able to put into practice.
Soapberries instead of laundry soap, available for sale at Bulk Barn. (I also air dry most of my laundry to conserve energy.) For stains, I have a bar of old-fashioned laundry soap (also from Bulk Barn) and it's really effective.
Using baking soda for washing dishes (we don't have a dishwasher). We still buy dish-soap but it's used for approximately 1/4 of dishwashings, and a single bottle lasts for ages.
Buying bar soap (which we always did anyway because liquid hand-soap is for millionaires!)
Buying glass jars instead of plastic food containers, when possible—we get Pinebridge Yogurt now and it's also delicious. Buying cream cheese in the cardboard packet instead of plastic container, etc. Would love to find a non-plastic way to buy cottage cheese though!
Buying ice cream in biodegradable containers (and bonus: Chapmans and Kawartha Dairy are sold in these and are both pretty local!)
We bring water bottles everywhere instead of buying juice or water in plastic bottles
Reusable cups for hot beverages! We bought Keep Cups a few years ago, and bring them everywhere we go. When I lost my lid, I was able to order a replacement.
I don't use the plastic produce bags from the grocery store, and have reusable mesh bags instead. When I don't remember to bring them, I just let my sweet potatoes roll around naked.
We stopped buying paper towels and napkins, and instead bought up a boat load of secondhand reusable cloth napkins. We also have cloth diapers left over from long long ago that double as paper towels, except that they may outlive us all.
Bringing our own food containers for take-out. We thought they'd think we were weird, but if they did they didn't mention it…
Reusing bread bags and other such things for freezing food and for lining our kitchen compost bin
We banned plastic wrap! I thought I would miss it as I used it for zesting lemons and it was really useful in this way, but zesting is all right without it, and there are plenty of less plastic ways to cover food for storage.
I replaced our shower curtain with a polyester machine-washable one and didn't buy a liner. The shower curtain still keeps water from going all over the floor, and dries quickly.
What to work on? I tried bar shampoo, but it did my hair no favours, and so I went back to bottled—I only wash my hair twice a week anyway—but would like to find a non-plastic solution. Deodorant and dental products remain a huge source of plastics waste in our house. And several kinds of fruit and veg arrive in those non-recyclable black plastic containers, or the plastic tubs that mushrooms come in and we need less of that. Finally, I would love to do more shopping at one of those no-packaging stores (shampoo! Vegetable oil!) but we don't have one nearby.
Further Problems: The burden of solutions to environmental problems cannot fall on individuals alone. In addition to cutting down on waste, we also need to be electing politicians who are willing to tackle this issue and stop putting corporate interests first—and then holding our leaders to account.