June 19, 2019
The Youth of God, by Hassan Ghedi Santur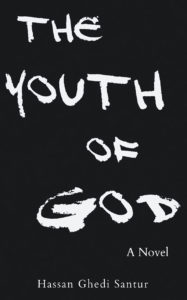 Hassan Ghedi Santur's novel, The Youth of God —about a young man of Somali background growing up in Toronto—moves between the perspective of the young man himself, Nuur, and that of high school teacher Mr. Ilmi, who is one of the few staff members at the school who isn't white and therefore has a better perspective than most on what his radicalized students are up against. And in his student, Nuur, Mr. Ilmi sees incredible promise, the kind of scholar he might liked to have become had he not chosen a safer and more conventional path with teaching. Which is not a path that he finds altogether fulfilling, and the novel follows Mr. Ilmi through his experiences at school and also at home, showing his growing connection to his wife, not long ago arrived from Somalia. Things he suspected about her at the beginning of their relationship turn out to be more complicated and interesting than Mr. Ilmi's original inferences—and this will be a theme in the novel, the things the characters are wrong about, which is unsettling for the reader who is situated in their points of view.
This is especially the case with Nuur, who is smart and obedient, who defines himself as good against his rebellious older brother (who he still looks up to—it's complicated). Nuur is a very pious Muslim who dresses in traditional religious clothing, which causes him to stand out and be victimized at school, and also alienates him from his more secular parents, who are fighting their own battles and still struggling as immigrants after twenty years in Canada. Young enough still to belief in certainty and absolutes, Nuur is drawn to his teacher and the possibilities of his future in academia—but at the same time he is attracted to a charismatic Imam at his mosque whose messages underline the supposed purity of Nuur's worldview, but also might possibly be dangerous.
The duel perspectives of The Youth of God provide a compelling story with great tension and a tragic sense of inevitability. Santur shows the way that racialized youth (and Black men in particular) are often not permitted the second (and third) chances availed to their white peers, and therefore how the consequences of their choices and impulses can be dire, even fatal. He also paints a broader picture of the experiences of the Somali diaspora in Canada, and the challenges and struggles that immigrants to Canada continue to face.