June 12, 2019
Echolocation and Meteorites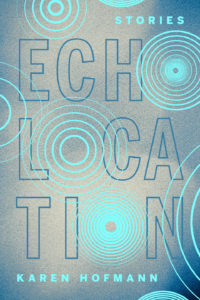 Echolocation, by Karen Hofmann
As a fan of Karen Hofmann's novels (I loved After Alice, and What is Going to Happen Next is a title I've been recommending widely) I've been looking forward to her short story collection, Echolocation, which was published in April—and it did not disappoint. The stories themselves are wide-ranging in tone and style, as well as in their publication history, if Hofmann's "Acknowledgements" are any indication—the title story was published in Chatelaine in 1998 (and now I am nostalgic for short fiction in women's magazines, and women's magazines in general. But I digress). Stories are written in the first person, third person, and even one in first person plural, which I liked a lot—about a group of colleagues retreating to a cottage after a conference, and it's an incredibly orchestrated melee. "Echolocation" is a story of miscarriage and marriage. In "Virtue, Prudence, Courage," two misfit newlyweds turn feral on their wilderness honeymoon. In "The Swift Flight of Data Into the Heart," a woman's long-buried secret is beginning to rise to the surface. As in What Is Going to Happen Next, this book is impressive for its broad scope and convincingness at all corners—suburban wives and mothers, middle-aged men, a family of immigrants from Bosnia, an ex-nun, an elderly painter who clings to her independence, and former trumpet player from a travelling band of people with dwarfism, although the narrator was taller than they would have liked, but they needed trumpet players, as all bands do.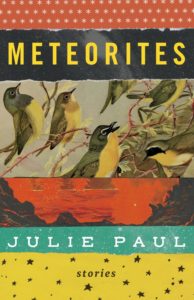 Meteorites, by Julie Paul
I was also excited to read the latest by Julie Paul, whose last book was winner of the City of Victoria Butler Book Prize and made the Globe and Mail's Top 100. Similar to Echolocation, Meteorites is a grab-bag of various delights, whose stories whose concerns include obnoxious step-children, ghosts, teenage friendship, brotherhood, a young daughter's self-harming, an organist determined to persist after her arm is amputated, and also murder. The settings seem familiar, but something sinister lies at their edges—sometimes surreally so—which is part of what makes these stories such compelling reading.