May 28, 2019
New York is Magic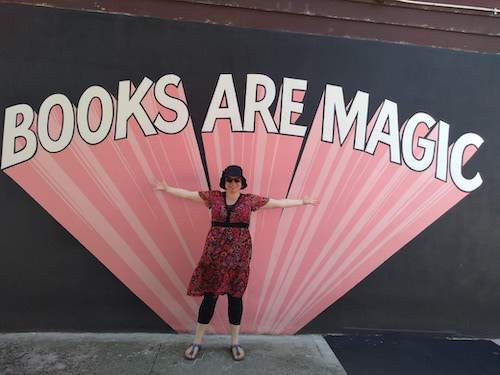 I'm having trouble finding my feet again after a weekend away where everything was extreme: hot, amazing, delicious, fun, expensive, tall, far, sunny, crowded, and wonderful. A record of our adventures can be had over at Instagram, where I will continue to post New York photos into the weekend because it was summer and beautiful there, and here it's just cold and raining (again). I didn't spend the entire weekend on bookish pilgrimages, because I want my family to continue to want to go on vacations with me in the future, but I did spend the whole weekend reading Madeleine L'Engle's now-obscure 1982 novel for adults The Severed Wasp (blurbed by Norman Lear, no less!) which underlined my New York experience in terrific ways, even if the novel was like a soap opera set in a church community (and how come, between L'Engle and Barbara Pym, soap operas set in church communities are my favourite kind of book?). The book was why I wanted to see The Cathedral of St. John the Divine, which was not far from where we were staying, so we went there on Friday evening. Saturday we spent walking through Chelsea, just close enough to Greenwich Village that I was channelling my two patron saints, Grace Paley and Jane Jacobs—and while I wanted to go find Faith Darwin in a tree in Washington Square, we went to Union Square instead because it was closer to The Strand Bookstore, and I can't expect my children to traipse across the entirety of New York City on my bookish whims, because New York is very big and also then my children would hate me.
Sunday's allusions were more musical, as I went to Strawberry Fields in Central Park, a memorial to John Lennon, which was kind of the worst kind of circus, but I suppose that was the case with everything with the Beatles in the end. I was also excited to see The Dakota, not for John Lennon because I don't like to be morbid, BUT because it was home two to amazing literary characters, Rosemary Woodhouse in Ira Levin's Rosemary's Baby (well, the film version, at least) and also Laine Cummings, Stacey McGill's best friend in The Babysitters Club, which was how I learned about many places in New York in the first place. (I wonder if they ever met in the elevator?)
On Monday, we went to Brooklyn, because I wanted to visit Books Are Magic, which everybody in our family really liked for its great aesthetics, chilled out vibe, and good books selection, plus Stuart and Iris got to read stories and lie in the floor, which is always nice at the end of a busy four days of touristing. Which was still not enough to even get a proper sense of the city and all it holds, but it was a very good start, and now we all want to go back again.