May 16, 2019
Little Darlings, by Melanie Golding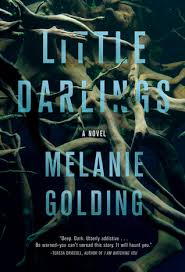 If domestic noir is still your thing, but you're finding the genre a little tired (and then some), then pick up Melanie Golding's debut novel, Little Darlings, which blends the imperilled housewife trope with literary chops and allusions, and hearkens toward the supernatural in the most delicious way.
I read the novel in a single day over Mother's Day weekend, which seemed entirely appropriate, this book that begins in the delirious aftermath of birth. The birth of twins, no less, and Lauren is shattered, troubled, her husband sent home and she's left to care for her babies alone, which leaves to a terrifying nocturnal encounter—but is the whole thing just in Lauren's mind? (And the question I always get stuck on when determining when a woman's trouble postpartum is in her mind or otherwise—why does the difference even matter, unless you think her mind doesn't count.)
There's nothing like the destabilization of new motherhood, how it can reduce one to a vessel, how it realigns marriages and relationships and one's own sense of self. Golding captures that instability incredibly in this novel as Lauren grows more and more unstable, isolated, and divorced from reality. Or is she? Could it be that Lauren is more perceptive than anyone else around her to the threat she and her sons her facing, a threat that even comes to pass. Or perhaps it does—it's all unclear. And afterwards, Lauren is convinced that her children are not her own, that they've been switched with those belonging to the terrifying "river woman" who is connected to a now flooded village and lore about changelings from centuries ago.
Has Lauren lost her mind? Are the children okay? Is their mother the most real threat they're facing? And Golding weaves these questions into another storyline involving a police detective who can't quite let the case go after hearing a recording of Lauren's emergency call from that night in the hospital. A detective who reminded me of Rachel Bailey from the amazing TV series Scott and Bailey, what with the dysfunctional personal life and disregard for rules and the opinions of her superiors. Turns out this Detective, Jo Harper, gave up her own child born decades before when she was a teenager, and once again the question is whether Harper's personal experiences are guiding her intuition or whether they're distracting her from the reality of Lauren's case. I think we all know what the answer is…
But we don't entirely, which I appreciate, the way that Golding complicates her story in a way that might prove frustrating to some readers who are hoping for straightforward resolutions, but the author is giving us more than that. She's giving us problems to think on, sexist biases to consider, and also a dark and creepy story designed to unsettle.