May 14, 2019
We Should All be Activists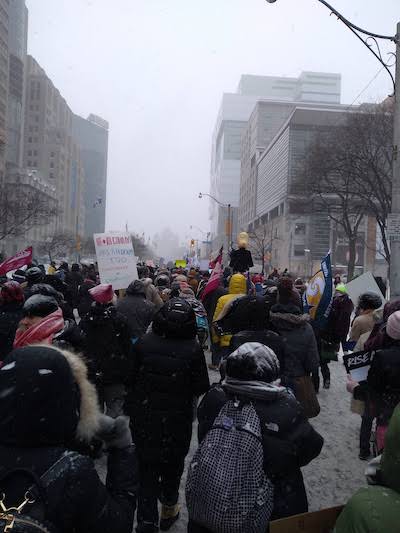 I am not an activist.
I remember the very first time I had to explain this to somebody. It was on Twitter, naturally, but way back in 2013 when Twitter really did properly qualify as an echo chamber. I thought we were all pretty much over racism, and that nobody in their right mind would flirt with authoritarianism just to own the libs, all of which is to say—2013 was a very long time ago. And midwives in Ontario were protesting wage discrimination and a gender gap, which meant they made significantly less money than (mostly male) doctors for bringing babies in the world. I tweeted about it, because I think the work that midwives do is sacred, and in late 2013 it had only been a handful of months since I'd recently had a baby. And it would turn out that support for midwifery is more controversial than you might expect, or at least than I would have expected in 2013, back when I was still mostly unaware that we live in a world absolutely steeped in misogyny. Someone accused me of being a midwife or paid by the midwifery lobby (Big Midwife?) to be tweeting in support of their side on the issue, and I was so confused by this. No, I was just a person with an opinion, who supposed that my perspective on an issue mattered. How cynical can you be not to imagine that such people actually exist?
I am not an activist. I've said this more than a couple of times over the years, but mostly because I don't feel I have the proper cred for such a designation. I've never chained myself to a tree, or gone to jail, to stared down police in riot gear, and when faced with confrontation, my first impulse is to cry. Sometimes I sign online petitions, but I don't think that really counts.
In 2016, Tabatha Southey published an excellent column in the Globe and Mail headlined "Might I demand that we stop agitating against activism?" It was in response to an ad campaign from the Ontario Medical Association about changes to health care in Ontario (which seems very quaint now, that they thought they had something to complain about then…) featuring a person who was supposed to be an "everywoman"—"I have never protested a day in my life," she explains, as though somehow this makes her complaint more legitimate than a person who was campaigning for nuclear disarmament in the 1980s. Southey writes, "Since when did never having been so passionate about something that you felt the need to speak out about it become an express ticket to the moral high ground?"
I was thinking about all this the other weekend when I went to The Festival of Literary Diversity (the FOLD) in Brampton and attended the absolutely terrific "My Body is an Activist" panel with Imani Barbarin, Joshua M. Ferguson and Adam Pottle, moderated by Carrianne Leung. All three writers spoke about activism, identity, limits and labels. Pottle pointed out that what many people might call "activism" might actually just be people trying to live their best lives—and the way that "activism" as a label can serve to reduce that experience. He also noted how calling someone an activism (or something "activism") also serves as a convenient way of getting rid a nuisance, how it's something easy to push aside.
Which is where I began thinking about Southey's article again, and the woman on Twitter way back in 2013. About the weaponization of the word "activist," which is a way of rendering activism as meaningless, inconsequential (which, indirectly, was precisely what was happening in that 2016 OMA ad).
Which is why I have to say things like, "I am not an activist" quite often now in order to legitimize the ideas I am expressing, never mind that I literally have a collection of broomsticks and wooden dowels on my porch for securing to placards that read things like, "Fund Public Schools" or "Hands Off My Uterus, You Weird Religious Ding-Dong." It's been two years since I started carrying around a banner in my purse that says, "My Body, My Choice," and I've had occasion to use it. I have become that weird mom in the school yard gathering signatures for her petition protesting cuts to school funding, and indeed have co-organized an Action Day for this Thursday, for which I am baking four sheet cakes and we will be distributing cards for our postcard campaign. But I am not an activist.
I am not an activist, because the only way for one's ideas to be worthy of consideration is to stand for nothing and accept the status quo, which is just how the government in power likes it. ("The constant disparaging of activism – the casual acceptance of the idea that the more dedicated a person is to a subject, the less they are worth listening to on that subject – has been fashionable for a while now," wrote Southey in early 2016. "The plethora of 'Taxpayers for …' and 'Concerned Citizens Against …' groups is a reaction to that trend. These people are 'concerned,' about an issue, you see, having apparently rejected 'Peeved' and 'Indignant' as descriptors. We are to understand that while, yes, these groups are campaigning to bring about political or societal change through vigorous action, the difference is they're right.")
There is the thinnest line for who is permitted to stand up for anything these days. I have found over the last five years speaking out about my experience with abortion and speaking up in favour of reproductive justice and increased access to abortion in Canada and abroad that having a uterus, children and lived experience of abortion doesn't count for as much as you'd think in the minds of some people, and these matters really should be left in the hands of random guys on Twitter or 21-year-old virgins.
And while you'd thinking that speaking up for children's right to well funded schools would be a less controversial topic, it's proven not have been. On this topic too, there are men on Twitter who are quite sure I don't have the right to hold opinions on this topic, that I'm a partisan shill. When I inform them that I've been speaking out about education funding models for two consecutive governments, they demand to know the exact date when I started, and why I wasn't shouting about this a decade ago, because it's not a new problem. So either I am not an activist, or I've not been activisting enough—and it's almost as though forces are trying to make it impossible for people to express their ideas, to have dissent, for us to work together as communities to bring around any kind of change at all. (Unless we are concerned taxpayers, which apparently is fine.)
But of course, I am an activist—in spite of myself. In 2019, I don't how anybody can't be. Whether you've got wooden dowels on your porch, or you're petitioning your friends and neighbours about climate change, or you want your children to have a future that isn't hellfire, or you want the right to decide not to have children at all should you need to, or you care about endangered species, and affordable housing, and you want the police to cease stopping Black people when they're walking down the street, or you understand now the way women are vilified when run for office and you want to do something about it, or you're concerned that racists are so emboldened and flying Nazi flags is actually a thing, and you would really love some democratic reform in order for the stupidest people not to be elected into office over and over again.
We should all be activists. Short of that, we should all be aspiring to be activists. If I don't see you while I'm collecting signatures on the playground, then I will see you in the streets.