April 17, 2019
The Centre of the Universe, by Ria Voros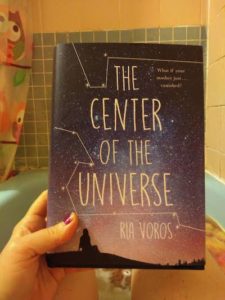 I think I've made a pivotal error in my life of late, which is confusing my extreme aversion to badly written coming-of-age novels ("because if you make your character do stupid and inexplicable things, your plot doesn't even have to make sense!") with a lack of interest in YA books. And this is not exactly scientific, guys—because I've still barely read any YA books—but it's possible that there is less overlap than I thought between badly written coming-of-age books and YA. Certainly every time I pick up a YA novel (Cherie Dimaline's The Marrow Thieves, Saints and Misfits, by SK Ali) I come away thinking, "Well, who ever would have thought it? That turned out not to be a badly written coming of age novel after all…" and meanwhile in more Literary pursuits, I keep picking up badly written coming of age books over and over.
So best to stick with the YA, maybe? I picked by The Centre of the Universe, by Ria Voros, after I learned about her amazing literary matchmaking with astrophysicist Elizabeth Tasker, which Voros wrote about on 49th Shelf. Voros had written a novel about a teenage character with a passion for science and astronomy, and wanted to give her character a real-life scientist to look up to, and ended up contacting Tasker (who works in Japan for the Japan Aerospace Exploration Agency) to see what she'd think of appearing in a novel. Turns out that Tasker was game (a strong imagination and ability to see the value of connections is important when one is an astrophysicist, I suspect) and ended up consulting on the novel, providing a Q&A for it, and now is making some tour stops with Voros in Toronto and British Columbia, because her own book (The Planet Factory) has just come out in paperback. They're going to be at Lillian H. Smith Library next Tuesday April 23 at 6pm, and I thought it sounded like a cool event and something, perhaps, I'd like to take my daughter to.
So I read the book to see—and I really loved it. The story of a seventeen year old girl who's obsessed with science and feels light-years away from her glamorous superstar journalist mother. And then the distance is made literal when the mother disappears, and Grace has to contemplate the idea that her mother exists outside her own orbit and may have secrets she doesn't know about. Meanwhile, her best friend is busy organizing fundraisers to support Syrian refugees, and Grace developing feelings for a guy at school who is pretty dreamy and has a passion for photographing butterflies—and what I loved about this book is that all the characters were so interesting and curious, empathetic and intelligent, and while their lives might be complicated, but they're resilient, and I appreciated the portrayal of strong friendships, as well as the plot's lack of reliance on cheap tropes (or inexplicable behaviour—see my point above about badly written coming of age novels). I loved that Grace's parents were interesting people in their own right, with fears and desires, and flaws, and Grace's struggle to accept that. Plus a plot that kept me turning the pages.
I loved that it's a book I'll have no qualms about passing on to my daughter too, who is a bit too young for it—she's (nearly) ten. But while some of the book will definitely go over her head, I think she will get enough out of it. There's a sex scene, but it's pretty tamely written as these things go, and definitely so in comparison to Sidney Sheldon's The Other Side of Midnight, which was my first exposure to sex in a book, and I wasn't that much older than she is.