April 10, 2019
I didn't rally on Queen's Park in 1997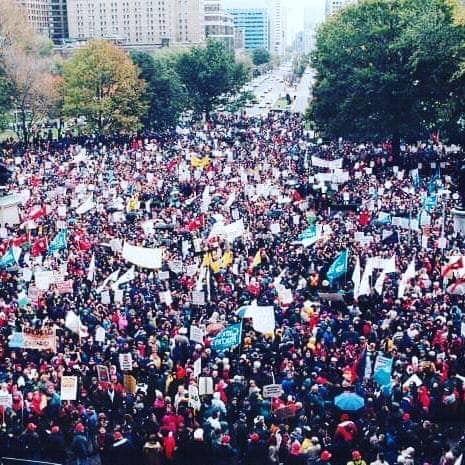 I didn't rally on Queen's Park in 1997, the last time an austerity government set its sights upon Ontario's schools and teachers fought back. In my defence, I was a student in my final year of high school. And if walkouts were being organized, I didn't notice. I recall thinking that politics shouldn't concern me; surely the adults could work it out? I didn't understand that teachers were standing up against policies whose destructive effects would be felt for generations.
And this is not hyperbole. When my child began kindergarten in 2013, elementary schools were very different from what I remembered. Apart from the implementation of full-day kindergarten, it has been decades since major investments were made in Ontario's education system, a system whose underfunding was signed into law in 1997 when Mike Harris's government changed the funding formula, the policy my teachers were rallying against.
Which is why these days, teacher-librarians work half-time, if at all. At my kids' wonderful school, we don't have a vice-principal, or a music teacher. Parents volunteer in the office to help our lone administrator keep up with her tasks, and they also tutor students in literacy programs. Parent fundraising replaces decades-old gym mats, replenishes classroom libraries, and leads initiatives to redevelop school playgrounds. Education Assistants and other support staff are rare in classrooms, while teachers—carrying on heroically—face growing numbers of students with special needs.
Meanwhile, Ontario schools—literally—are falling apart, facing a growing $15.9 repair backlog. In 2016, thanks to advocacy from grassroots organization Fix Our Schools, the Liberal government committed to $1.1 billion for school repairs, which was a start, but not enough. And then weeks after their election in June 2018, Doug Ford's Progressive Conservatives eliminated the Cap-and Trade program—"Promises made, promises kept," Ford and his ministers crowed—the school repair fund disappearing with it.
So this is the system the government is looking to cut from to pay for overpromised tax breaks. When high school students walked out of classrooms on April 4, they were standing against pedagogically unsound ideas including increased class sizes, mandatory e-learning, the elimination of thousands of teachers, and specialized programs and classes. At the elementary level, junior class sizes are rising, teaching staff are being laid off, special grants and programs are eliminated, along with plans to implement Calls to Action from the Truth and Reconciliation Commission into the curriculum, and there has been no additional funding for students who've lost support through the province's autism program.
The students who walked out—the Premier dismissed their organizing as coming "strictly from the union thugs"—are so much more aware of their world than I was at their age.
"I heard about the cuts and I was just kind of mulling it over for the weekend," said Natalie Moore, 18, who organized the walk-out. "I kind of realized that students, especially as leaders, need to step forward and take it into our own hands."
And on April 6, two days later, thousands of teachers, parents, children and allies—galvanized by students' actions days before—would do the same, gathering at Queen's Park to stand against cuts to schools and this government's unwillingness to invest in public education.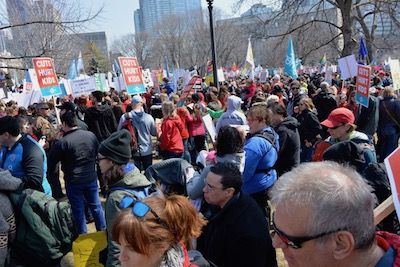 It was another demonstration that Ford and Thompson would write off as a union stunt, but I was there, and I'm not in a union. Neither are my neighbours, my children, their classmates, and parents and grandparents who gathered in a downtown playground on Saturday morning so we could walk to the rally together. We were there to stand with our teachers—our partners in our children's education—and because we believe in a well-funded education system where every child has a chance to succeed.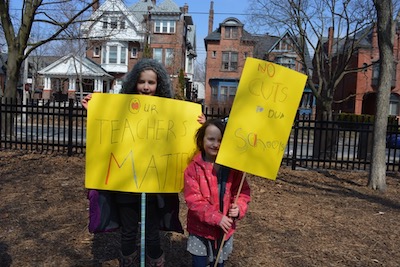 For me there was another reason to rally at Queen's Park, and it's to make up for my failure to do so two decades ago. I see a direct line between my inaction then and the ways my children are being let down today. They deserve an education as excellent as the one that I received in Ontario schools, as do all those students who walked out of class last Thursday, those with the courage and conviction to use their voices and stand up for schools, and not simply wait for the adults to work it out.
And we are the adults now. So let's fight back, and finally be the kind of people that Natalie Moore and all our children can be proud of. They've set the most incredible example for us to follow—and we're proud of them already.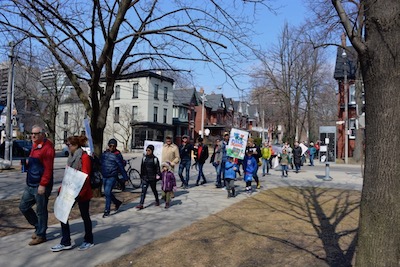 Next steps: Ontario parents with school-age children: the group West End Parents For Public Education Toronto has created an incredible tool kit that we are using at our school to rally together and fight back against the government's attack on public education. Please take a look at it!
If you're on the council at your child's school, there is lots of practical advice and things to do—and if your council is not political, let me tell you that ours wasn't either but I've found lots of support from my colleagues on council as we take action for our kids.
If you're not on council, you can still organize (and possibly the people on your school's council will be happy someone else is doing it!).
And if you do not have the time, please reach out to your school's council and let them know that these issues are important to you and make sure they know about the WEPPE tool kit.
To those of you whose children go to private schools, I hope your communities will also think of ways to be allies for public schools and support this cause.
An important thing I've learned in the last year is that you don't need to wait for permission to start acting on the issues that are important to you. Please reach out if you have any questions or would like to work together.