March 13, 2019
A Ring of Endless Light, by Madeleine L'Engle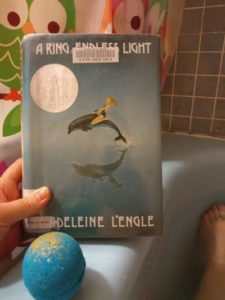 "Why all of this, my Lord and my God? Either bring the world to an end or remedy these evils! No heart can support this any longer." Vicky Austin is reading to her beloved Grandfather, who is dying of leukaemia, and is startled when he bursts out with this utterance. And he explains, "Teresa of Avila said that, in the sixteenth century. It should comfort me that there have always been outrages to the Divine Majesty. But it doesn't." He points to the headline in a nearby newspaper: "The headline was a plane crash, a big one, with everybody killed." What is particularly outrageous about the story is that after the people were killed, others had ransacked the wreckage and the bodies for money and valuables—but this is not my point here. Instead I want to talk about the uncanny way that Madeleine L'Engle's Austin books have been speaking to the moment I've been reading them, even decades after they were written.
Because a big plane crash that killed everybody on board was also top of the news yesterday, 18 Canadians among those who perished on the Ethiopian Airlines flight that crashed on Sunday. And Vicky Austin talks to her grandfather about how she's been avoiding the news that summer—it's been a heady time with her grandfather's illness and the death of a family friend. And Vicky considers, "But not reading the paper only kept me from not knowing things; it didn't keep them from happening."
Grandfather, anticipating Twitter in 1980 (when the book was published), says to Vicky, "Maybe instant information isn't good for us. We can't absorb it." Oh, Grandfather. You have no idea.
These books relationship to time continues to fascinate me, seemingly linear and more straightforward than the Wrinkle In Time series. And yet there is more going on than is immediately apparent—first of all, Vicky Austin's father and another character in this book have all been involved with the research of Dr. Calvin O'Keefe, who is Meg's companion (and eventually husband) in the Wrinkle series. Which is to say that they inhabit the same universe. But time also unfolds at a different pace than the Wrinkle books do. This book is also written more than a decade after The Young Unicorns, and yet set just a handful of months later. And finally, there is the incredible sense I have that I'm meant to be reading this books right here in 2019, and the reading experiences I'm having are so visceral. I made a chicken dish the other night that was the same dinner I made when I was reading The Young Unicorns, and I was full of Young Unicorns nostalgia. I'd only read it two weeks before, but still. I've found all these books so utterly absorbing.
This one is set the summer following the big road trip in The Moon By Night, after the year in New York that was depicted in Unicorns. The Austins have returned to Grandfather's island to be with him at the end of his life, but focus is shifted when the family's good friend dies of a heart attack during a sea rescue. The sea rescue turns out to be for Zachary Gray, who was attempting suicide after the death of his mother (who was cryogenically frozen!). And yes, Zach's back, and as obnoxious as ever, but Vicky is a year older and able to call out his bullshit in a way she wasn't strong enough to do before. Meanwhile, she's found out that she has dolphin ESP and is participating in experiments with Adam Eddington at the marine biology station—not that he ever offers to compensate her for her labour, of course, though the station is a pretty bare bones operation.
Which brings me to gender and the Austins, which has shifted a bit since 1968 when the previous novel was published. I'm not saying that Mother wears pants now (because as we learned in The Moon By Night, Daddy doesn't like women in pants). But none of her children call her "nothing" in this book for her absence of a profession, and she even contemplates doing something with her life when the time comes that the children are grown and gone. She also mentions "inverse sexism" twice, which is kind of terrible. Advising her daughter Suzy that it would only be "inverse sexism" that cheated her out of her understanding her deserved place in the definition of "mankind," and also calling it when it's implied that her choice to leave her musical career for marriage was somehow unprogressive. But that sexism is mentioned at all is a kind of progress, I suppose. Vicky is also much less passive in her relations with the young men who are courting her (three of them!). It's really clear though in reading these books that Madeleine L'Engle was a decidedly unfeminist writer, never mind Meg Murry's fierce intelligence and strength of will (and remember that Meg in subsequent books becomes just "Mrs. O'Keefe," wife of the brilliant biologist).
(It is worth noting that Suzy Austin remains unconvinced about her mother's explanation for "mankind." I like that L'Engle leaves the space, the possibility, the question there.)
I would like to know more about L'Engle in relation to feminism, and I wondered if she considered it a dogma worth resisting. All the books in the series so far have been about resisting dogma in the context of religion, even as the books themselves are so religious and concerned with issues of morality and mortality. The underlying message in each book seems to be about the danger of thinking we understand everything, about God and the universe in particular. (A thing Meg Murry's mother once told her is, "But you see, Meg, just because we don't understand doesn't mean the explanation doesn't exist.") Vicky recalls her grandfather telling her, "As St. Augustine says: If you think you understand it, it isn't God." Not knowing seems to be fundamental to understanding, which to a religious person is the definition of faith, but this idea is applicable for those of us who don't have a religion too (or those of us who are trying to figure out feminism). Just as darkness goes with light, life with death, all of it bound together, this miraculous world and universe.