February 28, 2019
The Homecoming, by Andrew Pyper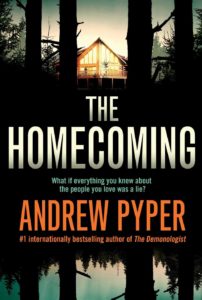 What I've always loved best about Andrew Pyper's novels isn't necessarily their plots, the super suspense, or the scary scenes that have literally kept me up at night. Although all these things are what make his books compelling, of course, and why I've been a fan of his work ever since I read The Killing Circle more than ten years ago. But for me the biggest attraction of an Andrew Pyper novel are the human connections, the relationships that make the stakes of the suspense plot so much higher—the father/son relationship in The Killing Circle, the brother and sister in The Damned, and another set of siblings in his latest book, The Homecoming.
Which is a weird book, and it's obvious from the novel's opening that something is a little askew. The Quinlan family isn't quite normal, even beyond the ways in which they know they're not normal—their father has just died, a figure who was always distant and often absent, and who has invited all of them together to receive their inheritance whose terms require that they spend 30 days at a remote lodge deep in a forest in the Pacific Northwest. And they agree to it, Aaron, a doctor; his sister Franny, a recovering addict grieving the death of her young child; their mother; and their fourteen year old sister Bridge, the person to whom Aaron is closer than anyone else in the world. They agree to it in hopes that the experience will give them answers to the questions they've had for years about the man their father/husband was, because what could be worse than so much not knowing?
Turns out: a lot. Other surprise guests arrive at the lodge, it becomes clear they're all even more isolated than they thought, the woods are haunted, there's an abandoned Christian summer camp with Satanic graffiti, and someone's skulking about with a hatchet. Beyond the confines of the forest is a world that might be described as dystopian were it not for its resemblance to the present day, with militarized power, civil strife, and racial divides, all of which makes the action happening at the lodge seem that much more pressing, dire and claustrophobic.
I have to confess to having read a lot of books lately in which a character realizes that "Everything he knows about his life is wrong!" but this one pretty much takes the cake. Indeed there's a twist, and it's a wild one, but not a cheap one, and it works, and not least of all because Pyper has creative a huge emotional investment in the relationship between Aaron and his sister Bridge. Their connection makes the twists matter so much more, and underlines the poignance of the novel's ending. The Homecoming didn't frighten me as much as it thrilled me and moved me, which is a pretty remarkable combination. I liked this book a lot.