January 25, 2019
A Velocity of Being: Letters to a Young Reader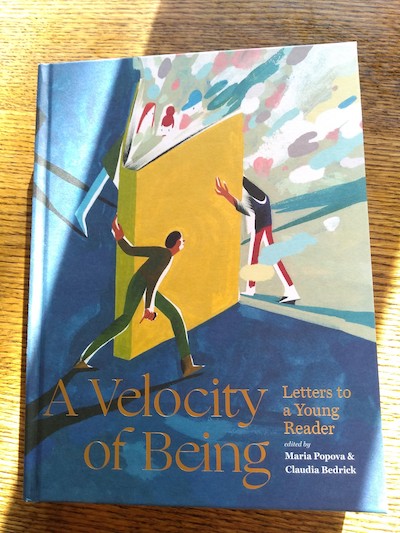 Confession: There are some beautiful books in my house that I have never read. Oversized coffee table volumes with gorgeous design, ribbon bookmarks, incredible illustrations, fascinatingly edited, but they're more furniture than literature. Or maybe they're aren't, but I'm unlikely to ever find out, because while I appreciate these books as objects, nothing has ever compelled me to sit down and start reading them. But A Velocity of Being: Letters to a Young Reader, edited by Maria Popova and Claudia Bedrick, a beautiful book with endpapers to die for? Reader: I read it all, many parts aloud. A book that's as good as its package; even, a book for the ages—all of them.
This collaboration is a "labour of love" between Popova (of Brainpicker) and Bedrick (publisher of Enchanted Lion Books), with all proceeds benefitting the New York Public Library system, and situated as a demonstration that "a life of reading is a richer, nobler, larger, more shimmering life." It's a collection of letters from readers—who also happen to be writers, rock stars, astrophysicists, artists, business moguls, philosophers, Lemony Snickett, Shona Rhimes, activists, composers, radio producers, Judy Blume, and more—about the role of reading in shaping their lives. There's Rebecca Solnit, and Maud Newton, and Mary Oliver, and Leonard Marcus, and Ann Patchett, and Yo Yo Ma, and Shirley Manson, and Jane Goodall, and Ursula K. Leguin, and so many others, each letter paired with an illustration by artists including Maira Kalman, Isabelle Arsenault, Liniers, Olivers Jeffers, Marianne Dubuc, Shaun Tan, and more.
It's a beautiful, thoughtful, inspiring book, and the greatest thing I got from it was company. Because while I appreciate the solidarity I share with my bookish friends online and in the world, I have increasingly, lately, wondered if we are outnumbered in the general population. As I read statistics on how few adults read for pleasure, about declining book sales, as I hear one more person who binge-watches Netflix talk about how they just can't find the time to read. I despair for a future in which people don't understand the value of reading and the riches that books can deliver us… but then this beautiful book is a reminder that it's not all lost. Not yet. That these riches are still abundant, and foundational, they bring us together, and they remind us that the world is amazing. Still.