January 16, 2019
This is Not a Metaphor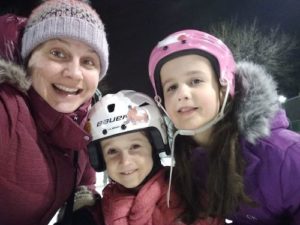 I understood it as a metaphor: it is okay to fall. It is okay to fall, to flail, to plummet. As much as can be expected from an ordinary human, I know this. I have lived it. Accepting, and even embracing, imperfection and failure has been key to any success I've managed to achieve along the way. But I have never managed to embrace this idea on a concrete level, concrete being the word, which is a hard and painful surface to have one's body strike even at a moderate velocity. And it doesn't even have to be concrete—for a few winters midway through my childhood, I used to go skiing, and I hated it, the terror. Where is the pleasure of sending one's fragile physical self down a steep icy hill? I used to weave my way down slowly, slowly, repeated the mantra: Please don't let me die. And then one day I occurred to me that I didn't actually have to endure this anymore, so I didn't. Why would I?
I took up ice skating four years ago with my daughter, who was five at the time. The task of teaching her to skate would fall to me, because it turned out I was the best skater in the family, even though I hadn't skated in 25 years and never really enjoyed it as a child. Winter sports are not my thing. Sports in general even really aren't, but at least in summer it's not cold. I have memories of skating on canals when I was little, and these are mostly memories of freezing. And sore ankles. I mean, at least with skating you aren't sending yourself down the edges of icy mountains, and the fall is never going to be so far. But still, there is falling. Even worse, there is fear of falling.
But for the last four years, I've been trying to commit to enjoying the winter outdoors, and skating has been part of that. It's fun. Of course, I don't enjoy skating as much as I enjoy having skated, which is my favourite part of the process, followed by hot chocolate. But I like it, and it's free, and it's been interesting to relearn an old trick, and to be learning alongside my daughter. I think it sets a good example for her too to see that acquiring new skills is not just the jurisdiction of children, and is important to keep doing this throughout one's life. Her father and her sister have since joined in our skating life, all of us learning together. Harriet now gives me a run for my money as the best skater in the family, and last night Iris skated around the rink multiple times without holding onto my hand at all.
But we are slow. We are slow, and we skate in terror of those fast skaters who weave in and out among us slowpokes, or else the little kids who are skating haphazardly in the wrong direction and moving right into our path without consideration for the fact that none of us actually knows how to stop. None of us skate with ease, although my children have a bit more ease than I do because they're more comfortable with falling. They're closer to the ground anyway, and they're fundamentally bouncy and less breakable, and with all the padding from their snowsuits they're well protected. Neither of them likes falling, but it happens, and that's okay.
I, however, have never fallen. Hardly something to brag about, because I've only never fallen because I've never being moving fast enough. From the metaphor, I know that the only people who never fall are people who've never been high enough to do so. As a skater, I am so cautious, nervous. I have been skating for four years with so much fear of falling—and then last night it finally happened.
I skated over a leaf, a dead leaf that had blown onto the ice, and I don't know why it so destabilized me, but I felt it, the ground no longer steady beneath my feet. "It's finally happening," I realized, and there was so much time to think as it did. A brief attempt at re-finding my balance, but then then it was all over, and down I went. Landing with a spectacular crash on my bottom, which was better than my head taking the impact, or my wrists. "And it's actually okay," is what I was thinking as I lay there on my ice, except it wasn't entirely because I'd knocked my littlest daughter over in the process (let's not make a metaphor out of that, okay?) and she was screaming. Attracting the attention of the ice skating attendant, who came over to see if she was okay, and, "She's fine, she's fine," I said, dismissing her pain. (But she was fine. Walk it off.) And then he helped me up, and I was almost euphoric, so much so that I forgot to even be humiliated.
Because the very worst thing had happened: I had fallen. And I hadn't fractured my elbow or even sprained my wrist, or received a concussion. I didn't break or shatter, which is what I'd always imagined. That I was fragile—but it turns out my body is stronger than I thought. And there really isn't even a lesson beyond that—I'm still going to skate slowly, I'm not thirsting for opportunities to fall down again. It wasn't like one of those Instagram memes where I thought I was falling, but it turned out to be flight, because it definitely wasn't flight as I lay there on the Dufferin Grove Ice Rink staring up at the glow of the artificial lights. It was falling, but it was fine.