January 8, 2019
Little Yellow House, by Carissa Halton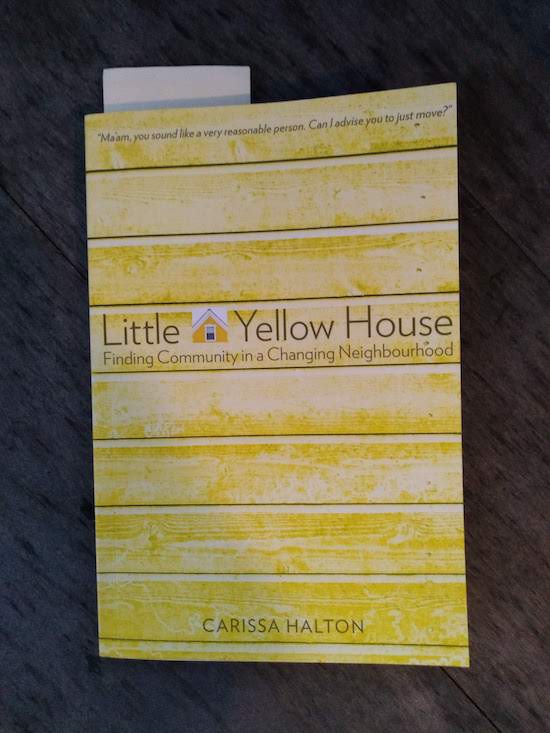 Last summer after a terrible thing happened in my city, I wrote a post about how "My favourite thing about living in a city is being able to disabuse myself of the notion that the place where I live is not a place where 'something like this can happen.' To live in a city is to live in a place where anything can happen, which is actually the case with living anywhere, but in a city we know it by heart." Which is the kind of awareness and understanding Carissa Halton celebrates in her book, Little Yellow House: Finding Community in a Changing Neighbourhood, a collection of candid essays about being part of Edmonton's Alberta Avenue neighbourhood, an inner-city community where all kind of things happen, some awful and others beautiful.
It is important to be clear about what her book is not: an anthropological analysis of life among the lower classes, Halton and her family taking advantage of lower real estate prices, all the while taking notes on the neighbours. Because while Halton does write about the tension inherent in her story, the "irony and responsibility" ("In the worst-case scenario, my family becomes a threat. By fixing up our home and our yard, by our activism, we run the risk of increasing property values on our street, which could lead to major affordability issues in decades to come.") she does not see herself as removed from the world she's describing.
She begins the book by writing about moving with her husband to what had been described to her as "the shitty part of town." The neighbourhood was closer to their jobs, would provide them a better understanding of the people they worked with running social programs, and her grandparents had grown up there. And yes, they could afford a house. "You'll move when you have kids," they were told, but then they had three, and they didn't move when the children went to school either, or when the children grew, and the house seemed smaller. "And while we wished there were fewer empty storefronts along the main avenue and fewer johns trolling to buy sex, the elm trees on the boulevard shaded the streets that led to the homes of our extended family," and there were cafes and bakeries, playgrounds, and a library. "In short," Halton writes, "we discovered shitty is how you see it."
She writes about, perhaps unwisely, confronting a man dumping massive quantities of broken tiles in her alley whilst being very pregnant. "Drug Houses Make Bad Neighbours" is the terrifying story of their friends who moved into the neighbourhood in 1994 and dealt with neighbours in a dodgy rental who'd threaten the when they called police, and police who'd offer advice such as, "Ma'am, you should like a very reasonable person. Can I advise you to just move?" With a journalist's eye, she tells the life story of a man who'd end up dying of blunt force trauma not far from where she lives who was once a little boy who wanted to be an astronaut. In "Hell is Other People," she writes about how good fences make good neighbours, and how her band of children are sometimes her neighbour's own hell.
Her essays are about neighbour kids, the friends she found on mat leave and how they spent their days, about a friend of a friend who took in a neighbour when he was forced out of his rooming house, where he'd been sheltering feral cats. About NIMBYs, and the joys of treasure-hunting at the thrift shop, lice and bedbugs, working at a soup kitchen, about a police officer mistaking her for a sex worker while she's waiting at the bus stop for her kids to arrive home from school. About community initiatives to deal with the sex trade on the streets where her children play, and another essay that tells the stories of women who've worked on those streets. About trees and birds and greenery. About going stir-crazy as a stay-at-home mom, and finding enterprising ways to make their smaller home work as their family grows.
Great cities and neighbourhoods are containers for stories, just like this book is, and every one of these is delightfully readable and well-written right down to the sentence level. And Halton is not afraid of tension, of ambiguity and uncertainty, something living in the city teaches you, and so each of these stories is suspended in a careful place, not neatly packaged or simply concluded. Which gives their culmination the effect of a walk through a city street, of glimpses, moments, and changing scenes—a most satisfying and delightful excursion.