January 3, 2019
The Gown, by Jennifer Robson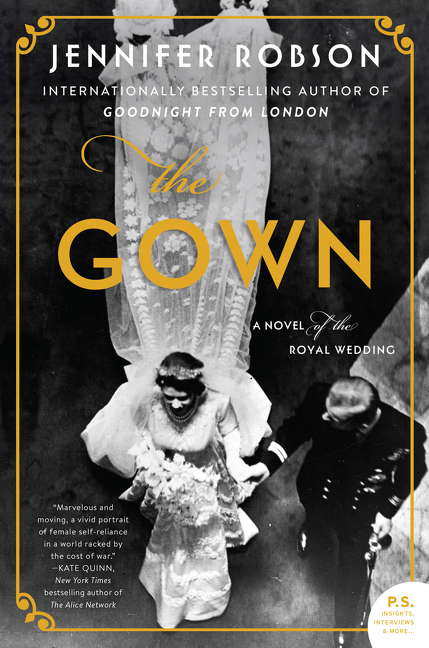 Jennifer Robson is my friend, in addition to being a superstar bestselling novelist, and while her latest book, The Gown, is the first novel I've read in 2019, I didn't set out with plans to write about it. I was reading it for fun, you see, and I'm still not properly off-vacation anyway, so I thought that this book, which tells the story of two women who worked on the embroidery on Princess Elizabeth's wedding gown for her 1947 wedding to Prince Philip, would be a mostly just an enjoyable endeavour. And it was, beginning with the two narrative threads set in 1947 London (from the perspectives of a working class English woman living on her own and another who has just emigrated from France with a reference letter from Christian Dior, hoping to leave wartime trauma behind her), and another in Toronto in 2016 (a journalist is laid off from her job at a magazine and decides to pursue the mystery of a piece of embroidery found among her late grandmother's possessions). The threads themselves perfectly nice and even lovely, and I was thinking, "I like this book. Good for Jen Robson…" And then about 100 pages in, suddenly I was unable to think about anything but the story and I only wanted to read it, and it was more like, Good for Jen Robson for being a novel-writing genius. It's not the threads themselves, but what she does with them, how they're woven together to create a plot that's deeply compelling, a setting that's oh-so evocative. A story about ladies and tea and sewing that it also a novel about class divides, date rape, the Holocaust, systemic barriers for working class women, female friendship, the utter deprivation that was England under austerity in 1947, and yes, about the royal wedding.
But it was her ideas about art that really made me want to write about The Gown, about what's allowed to be Art and what isn't. Unsurprisingly, she had me at the part where Ann puts down her mending and picks up a teacup painted with countryside scenes. "So I took them down to the antiques shop on Ripple Road, and the fellow there looked at the pieces and said they were Royal Worcester… He told me they were painted by a man named Harry Stinton. He said Harry Stinton was one of the best artists of the last hundred years. And you can't tell me the paintings on this cup and saucer aren't art, because they are." She's explaining this to her friend and housemate Miriam, who is beginning a project in which the story of family—murdered at Auschwitz—is memorialized on a series of embroidery panels. Miriam is an artist, Ann is insisting, even if she isn't "carving marble sculptures or painting oil portraits of politicians." And there is artistry too in the embroidery that went into a wedding dress for a princess, work for which the women who did it received no acknowledgement. And so the entire novel is a way to have their story told. As Robson explained in Entertainment Weekly, "If there's one overriding reason that I write, it's to give voices to women who lived in the past."
It all had me thinking about what kind of writing, what kind of books, are allowed to be Art, are allowed to be Literature. How we are forever forced to endure manifestos by male critics about how literature is not enough of a national expression, or else an aesthetic pursuit, or even the one about it's being destroyed by writers' social connections and an abandonment of individuality (by which he means: Down with women and friendship!). How in order to be Art, a book must be appreciated at the sentence level, and any appeal above that is frivolity. I would not consider approaching any of these critics for their opinions on work rendered on fine bone china.
And I've always been confused about what their objectives are, what it would mean if their visions came to be pass and we all decided that indeed, a book should only ever be just one single thing. It occurs to me that this is like declaring that artistic expression must only be conveyed by oil paints and canvas, which means no more sculpture, textiles, alley murals, comic strips, photography, and patterns on teacups. Imagine no more embroidery, or beading, or lace, or quilts, or patterns in the carpets—and of course, there is a gendered element to all of this. What a somber expedition every trip to the gallery would be.
I loved The Gown for its characters, plot and setting, and fascinating historical detail—Robson has a doctorate in British economic and social history from Oxford University. But I especially loved it for shining a light on the craft, talent and vision—genius—necessary for the creation of art that is beautiful, useful, and even commercial. These are works that, instead of being rarefied, are part and parcel of everyday life, which are all the more reason to celebrate them and declare how much they matter.