December 13, 2018
2018: Pickle Me This Books of the Year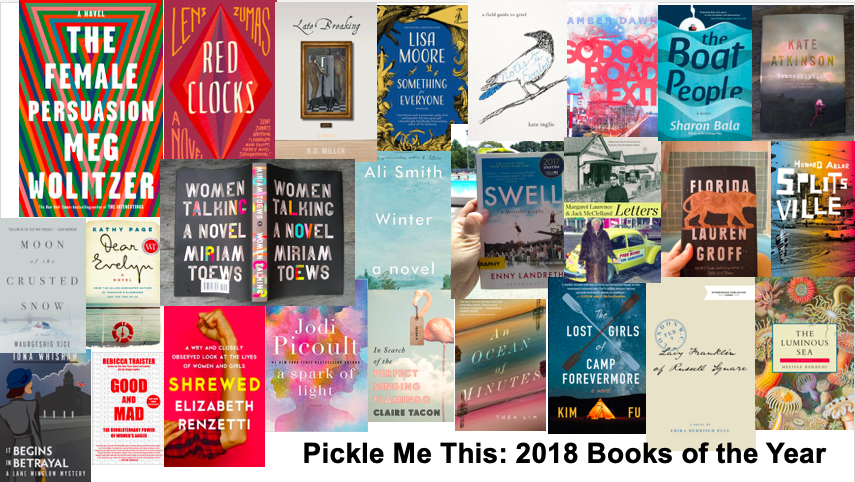 The book that was a balm for my broken spirit after my democratic rights were recklessly undermined by an authoritative government during the recent municipal election
Not the best Kate Atkinson book ever, but even an okay Kate Atkinson book is better than most books. I LOVED IT.
A book about who gets to be us and who gets to be them, and how we refuse to learn the lessons of history over and over again.
So gorgeous and riveting—and so few books manage to be both.
The book I was reading for six months, and could have kept reading forever
There was no better summer read than this one.
For those who know that the inner life of a woman is the most fascinating place of all for exploration
Lord of the Flies turned inside out—and fascinating in terms of narrative
Lauren Groff has never managed to not be excellent. I love her.
Essential reading for anyone who has known grief, and those who love them.
The history of feminism through the history of swimming? Okay!
Hauntingly beautiful. So happy to see this book get the love it deserves
Linked short stories inspired by Alex Colville paintings! And they're amazing.
Still not over those stories. Lisa Moore defies all expectations here, except to write really really well
My first Jodi Picoult novel—and I loved it
The book we need right now
The book I've been recommending to everyone
The story of a marriage and a century in a single book. SO GOOD.
I can't wait until Spring.
A funny, poignant and original exploration of family life
This book is hard work, but it pays off, and is full of quiet profundities
Discovering the Lane Winslow Mysteries was one of the best parts of my year. I LOVED THEM.
Oh. feminism, and all its waves. Wolitzer is not afraid to show how complicated and glorious is the tangle
Imagine a world where women weren't permitted reproductive freedom. Sounds a bit far-fetched…