December 12, 2018
More on Year End Lists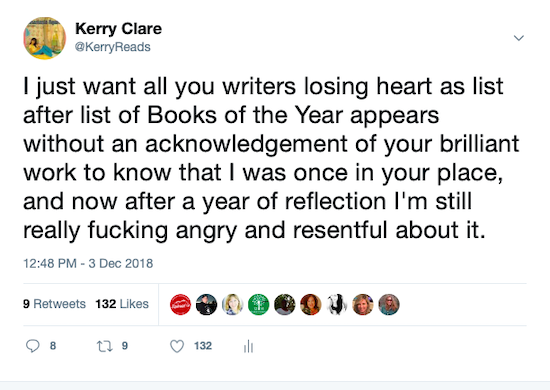 When I say I posted the above tweet last week in a tongue-in-cheek fashion, I am mostly lying because I was quite serious. In fact, I think I was even more annoyed this year than I was last year when my book did not receive significant acclaim as one of the great literary events of 2017, which is totally stupid, but also underlines that it is never not stupid to be furious that your book has failed to cause an earthquake, that publishing a book turns out not to be a catapult after all. The feelings are legitimate, but these are also feelings that one must necessarily pack away so one can carry on, because what a lucky thing to even publish a book in the first place. Get over yourself, is what I mean.
Although it's easier to be so magnanimous when your book did not actually, this time, qualify for all those year-end lists it failed to turn up on. Also when you have spent the second year of your novel's life receiving sweet and not infrequent reminders that the life of a book is long—my book was a Sweet Reads pick in January, I signed copies at a literary festival this fall, on random Saturday nights someone tags their cover in an Instagram post. And finally it's really easy when you are in fact author of at least three of those year-end lists—the most important ones, in fact. Which possibly provides a little bit of perspective on how arbitrary* the whole process is.
*Which is to not undermine my authority as a literary critic. My year-end lists are amazing.
I have loved so many books this year, and I actually love year-end book lists because it's one of the few ways that we know how to make books part of a wider conversation. (We need to think of more of these ways. I recently read a statistic that put the percentage of adults who read for pleasure in the single digits, which is shocking. Book clubs are another way, awards lists too, and Canada Reads, and I think those of us who love books have to try harder to make books and reading relevant and find places for them in people's daily lives.)
So that the real challenge then in coming up with year-end lists for Chatelaine, 49thShelf (which was done in concert with my colleagues), and here at my own blog was not having the lists go on forever. 49thShelf, at least, had the restriction of being Canadian books, and we tried to focus on independent publishers and books we'd featured on the site in order to showcase our content. The Chatelaine list was to be more marketable and broadly-appealing, with each book needing to be markedly notable beyond the fact that I just liked it. Which brings me to the Pickle Me This Books of the Year list, which will be up this week or early next, which is thoroughly my own creation, and which is probably the hardest of the three lists to turn up on, meeting a rigorous standard that I can't properly articulate, and I don't even have to.
I guess in some ways, year-end lists are a little bit redundant. The books that didn't matter to me are the ones I never read in the first place, or else the ones I read in private because I'd decided to keep my opinions to myself. I've been keeping a list of My Favourite Books of 2018 (SO FAR)—49thShelf, so Canadian titles only—and while not all these will be on my whittled down final list, they all are certainly contenders and I recommend them heartily. I've also been recommending books all year on the radio too, and stand by these picks. Basically I've been drowning in a delicious sea of wonderful reading, and these lists are my attempt to find a door to float upon. Also. and it's distinctly possible, that it all comes down to the fact that I've got a list-making compulsion.