December 11, 2018
Ode to a Parkette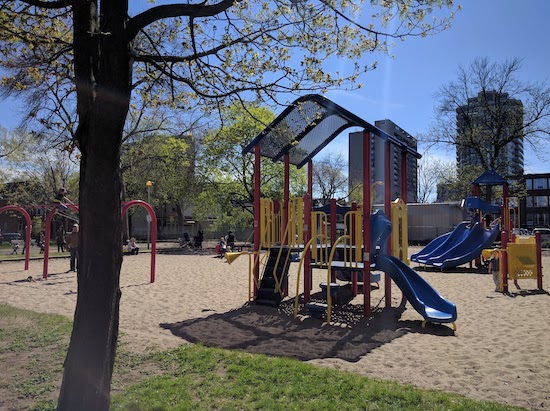 That the park is being bulldozed doesn't affect my daily life in the slightest, because we don't even go to the park anymore, and it's mid-December so we wouldn't even if we did. But it's at the symbolic level where it gets me, this park where I spent some of the best years of my career in motherhood, where I came of age as a mother, so to speak. This park where certainly things have changed over the years—the mysterious disappearance of the bumblebee bouncy toy, leaving the ladybug all alone; the tree in the north end was cut at some point; the tree in the south end that was planted to honour somebody's grandmother, where the leaves were always changing, and falling, and the ground would turn from ice to mud to summer. Where my children changed—they don't eat the sand anymore, for example—and certainly I did, but the fundamentals stayed the same. The bench on the east side that was missing a slat, and the boarded-up house behind the baby swings that made all of Harriet's baby photos look like she was swinging out front a crack den, and the little hill on the south side which was perfect for tobogganing on days when you just don't feel like climbing big hills.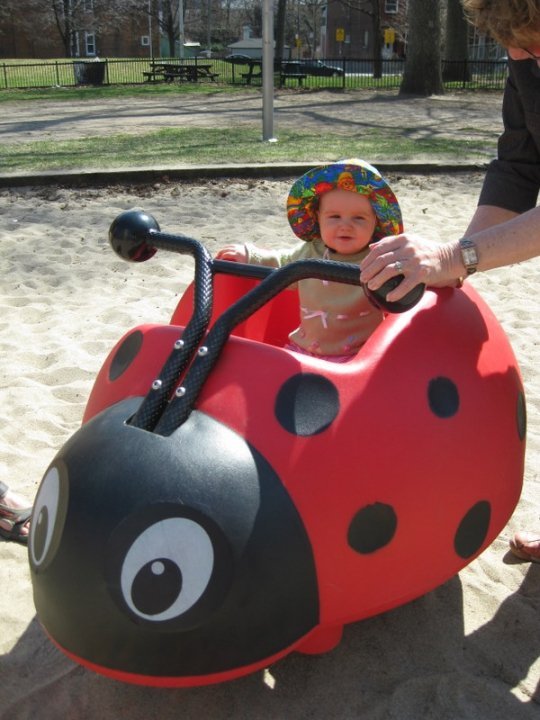 The people were always changing too, and in the beginning there were none of them, just Harriet and me, and we went to the park since I couldn't think of anything else to do with a baby, because there are only so many hours a day you can spend at the library. Even though parks aren't really ideal for babies, other than the swings, and pushing one of those for hours is boring, although less so when you do it while reading a book. I remember Harriet falling face-first in the sand there once, and how she got up licking her lips. Our baby days at the park were as aimless as life in general then, but then she got a bit bigger and things got a bit better, and one of the all time greatest afternoons of my life was spent at that park when Harriet was two and she was content to pretend to be driving the jeep toy for hours, and I sat sprawled across the backseat and read an entire book cover to cover. (It was The 27th Kingdom, by Alice Thomas Ellis.)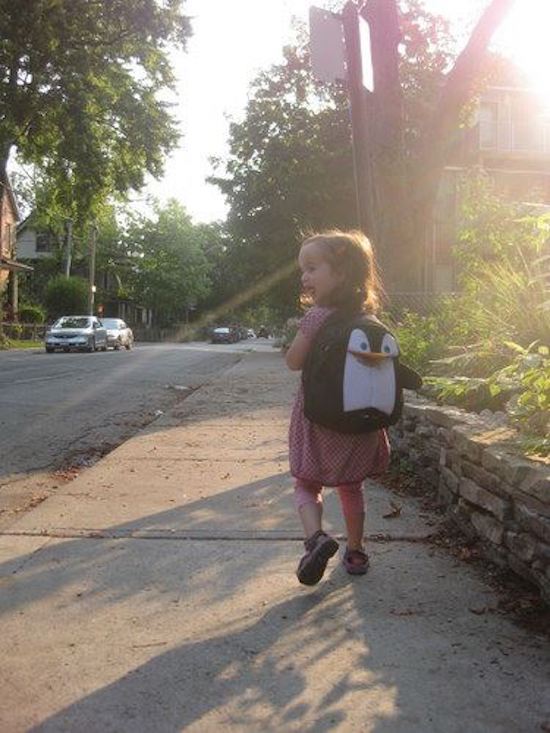 It was around this time that I'd met my friend Nathalie, whose children were older than mine and who was blazer of many paths I would follow, chief among them Huron Playschool. When Harriet was two, she urged me to register, but I didn't make enough money at that time to justify it. Still, when Harriet and I were in the park, I'd seen Nathalie's son in the park with his play school class, and consider the impossibility of Harriet ever being as old as that. And by the time she was three, she would join him there, skipping off down the sidewalk. Every day at playschool, the children played in the park, and it was where I'd pick her up at the end of the morning. I remember sitting around the sandbox with Harriet during her first week of school, and also I was pregnant, but nobody else knew it yet, and the women I was hanging out with there would eventually become my friends. All those hours we spent in the park, on playschool co-op shifts, and also after, because Harriet had stopped napping and we had no reason to hurry home, and it was spring, so early, but we took our shoes off, and buried our feet in warm sand.
All the children were there. Among the trees, in the arms of statues, toes in the grass, they hopped in and our of dog shit and dug tunnels into mole holes. Wherever the children, their mothers stopped to talk." –Grace Paley, "Faith in a Tree"
I wrote a blog post about that spring we spent at the park, about the woman who were so kind to me during my second pregnancy, and supported our family in incredible ways, and comforted me through difficult times and promised it would all be okay. Most of these women I see rarely now, if ever, and our children would not know each other if they met, but they were there for me at such a pivotal moment, and in my memory of them all, the sun is shining always. Although I'd read Grace Paley wrong, I'd discover a couple of years later. What a thing—the most shocking revelation of my literary life. "I really thought that they'd been it, those mothers in the park. I really had thought she meant that this, the mothers stopping to talk, was the most important conversation. But it wasn't, her revelation. Faith needs more than that, chatting women lounging in trees. The world needs more than that, at least if we ever expect to do anything about it."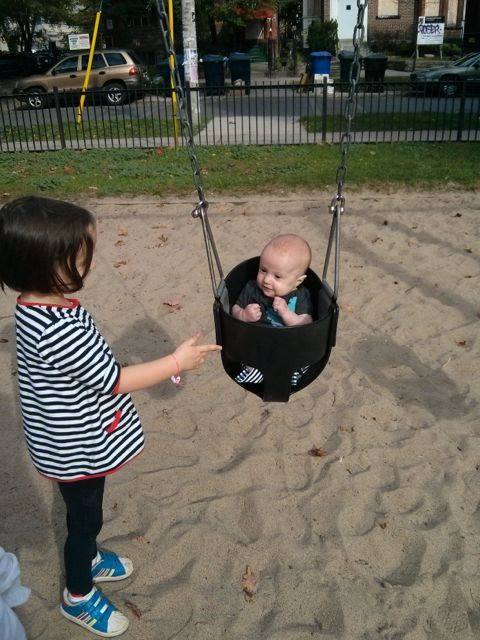 The first time I took both my children to the park alone, Harriet got stung by a wasp while I was breastfeeding on a  park bench, which was not the most auspicious start, but we found our groove, and as a mother I really found my stride.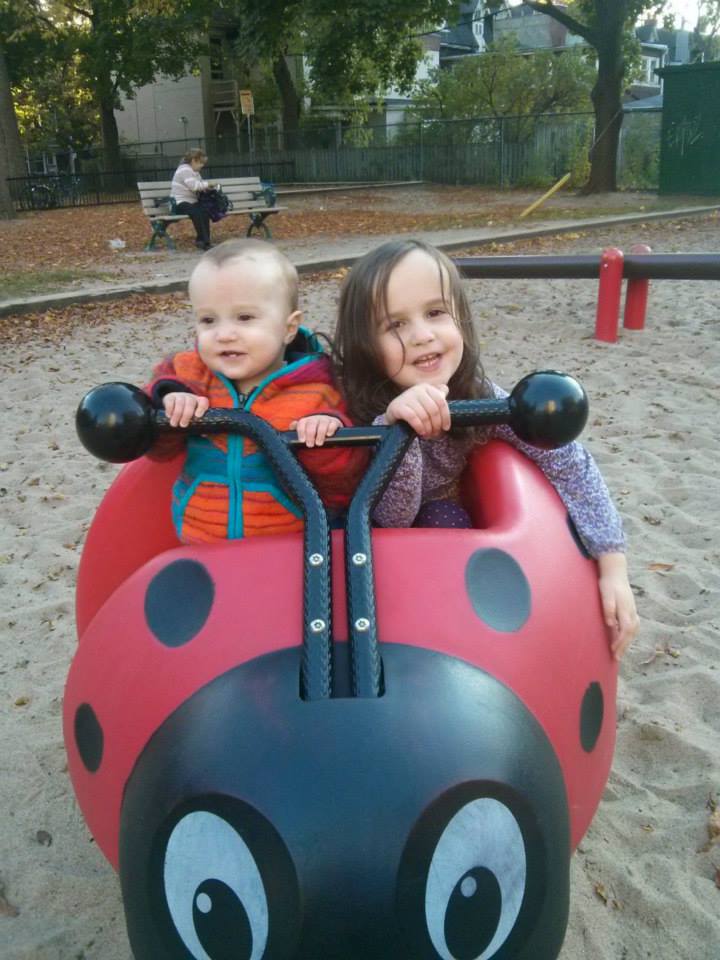 There'd be one evening in the years to follow when a friend and I would have pizza delivered to the park, and we'd all eat dinner there, in lieu of home and tables, which meant I was a long way from being that woman aimlessly pushing her baby in a swing, and I didn't even get to read anymore, because there was usually somebody I wanted to talk to.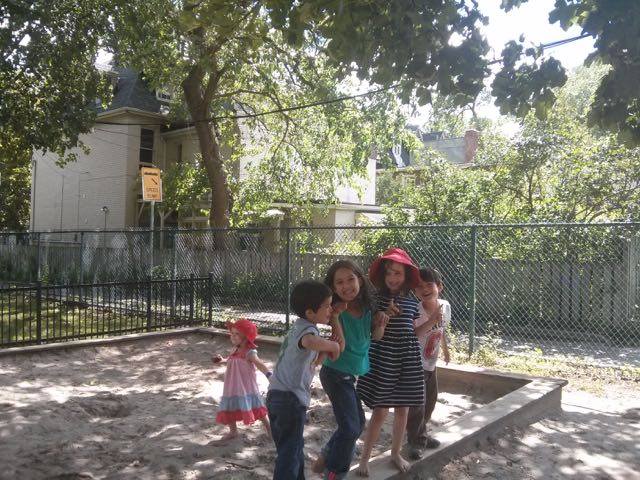 Eventually, the park became more special occasion than every day, because daily life became more structured. We'd meet up at the park on weekends and holidays, and during the summer of 2016, there were picnics and potlucks and always pie. I'd see mothers who were there with their babies, and I was a million miles away from them, without a clear idea exactly of how I'd arrived here, although the place was the same. I had two kids who could conquer the big climbers, and they'd fly down the steep slide, and I wouldn't even have to watch them. I had officially retired from pushing swings.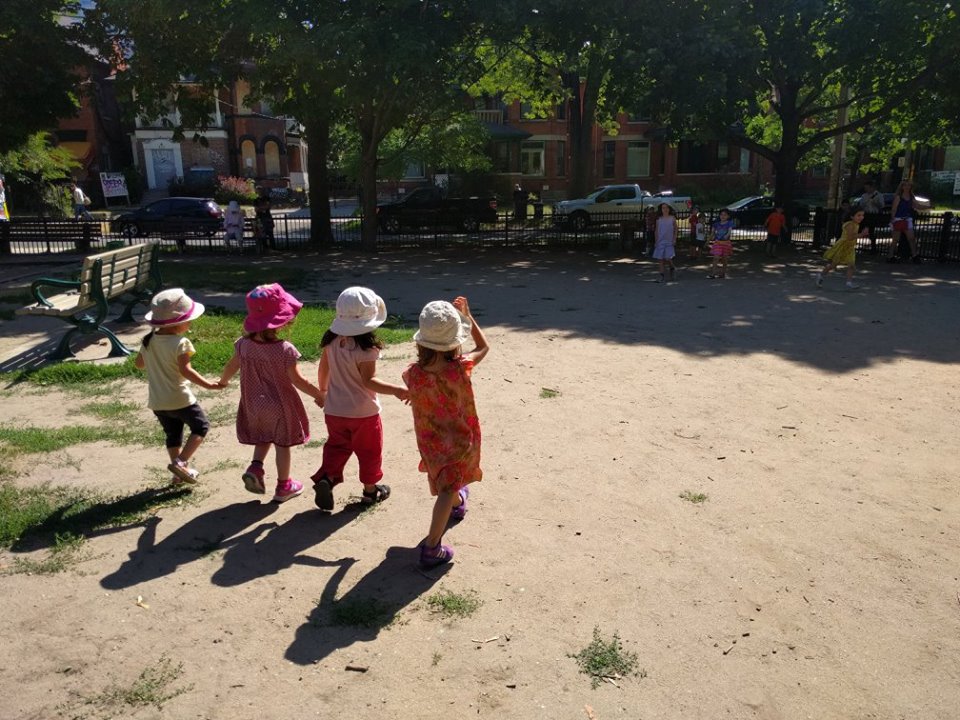 Last summer, our good friends moved out of the neighbourhood, so we haven't had pies in the park for awhile, and that the city decided to bulldoze it now doesn't seem so incongruous. (We did enjoy walking through the park in the autumn, however, on our way home from school, when the park was being excavated as part of a project by the university's archeology department. Old maps had indicated there had been dwellings on the site, and significant finds included bricks and teacups.)
The park is going to be redeveloped along with the expansion of the University of Toronto Schools next door, who are going to be building a facility underneath it, some of the playground equipment being temporarily located to the vacant lot across the street in the meantime. And by the time it's all finished, my children will likely be too old for parks at all—who'd ever have thought it? And the derelict house on the other side of Huron is finally being developed, after more than a decade, at least, so maybe we can definitively say that absolutely nothing stays the same, which is the point of cities, and parenthood, and everything.