December 3, 2018
Dear Evelyn, by Kathy Page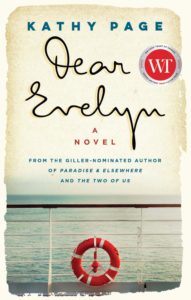 Dear Evelyn, by Kathy Page, is a novel so good that last night I was full of nostalgia because it had been a whole week since I was reading it. And I was reading a very good novel last night too, but still, I was sorry to have been a whole seven days away from the remarkable experience of having been absorbed in Page's award-winning book, which I read in two two-hour sittings. It's the story of a marriage, the story loosely inspired by letters between Page's own parents, some of which actually appear in the novel, making authorship an interesting collaborative endeavour. Beginning with the birth of Harry Miles, who grows up between the wars in London, the reader aware of the inevitability of his trajectory toward battle himself. But first, Harry meets Evelyn on the steps of the Battersea Library, and they fall in love with the same urgency as the world's preparation for war, another kind of unreality. They spent most of the first years of their marriage apart, as Harry takes part in training and departs for war in North Africa. Seemingly-pivotal scenes—their wedding, Evelyn's first pregnancy, the birth of their daughter—take place outside the narrative while Page focusses on the quotidian instead, the ordinary dailiness that Harry so longs for when he is away at war and longing for his wife.
And long for her he does, resisting temptation from other women when he's far from home, and when he returns and settles into civilian life, the attraction between them is still strong. It's not that this is a love poorly thought out, marry in haste, etc, but rather that life is long and love is complicated. And what is so astounding about the novel is how Page manages to show that complicatedness without compromising either of her characters. She shows how love and marriage can turn into something else as husband and wife continue to become more and more themselves as they age. It's not that Evelyn changes—it's that she never does. That strong personality that Harry continues to admire in his wife for so many years becomes a force that eventually pushes him out of his home, and the force is devastating—and yet he still continues to love her. And Evelyn herself, who is indeed herself but to a fault, and how her character traits borne out of struggle and deprivation during her childhood eventually leave her utterly alone. No wrenches need be thrown into this plot line, is what I mean. Or maybe what I mean is that that's just what life is, a wrench. And characters themselves are just along for the ride, for better or for worse.
Dear Evelyn has a wonderful, effortless sweep, moving its characters from their hearty youth on to their nineties, including just the right details to show how the world is changing around them. Here, the novel benefits from Page's experience as a short story writer, which is reflected in the novel's episodic structure, the ease with which it moves from scene-to-scene and accumulates story without becoming bogged down. Short story writers are expert at efficiently fitting big ideas into small packages, which is how—in just 300 pages—Page is able to contain a century; two wars; two fully realized, flawed and complicated people; a rich and tumultuous marriage; so much love; and the pride, rage and resentment that keeps so much from ever being properly expressed.