November 27, 2018
Motherish, by Laura Rock Gaughan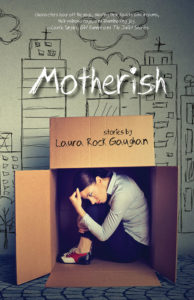 True confession: I find debut short story collections to be a bit hit and miss, more miss than hit, actually, but Laura Rock Gaughan's Motherish turns out to be one hit after another. The entire book cohering around ideas of being a mother and having a mother, and smart enough to know that within this "niche" are a million degrees of experience. Every story is distinct, sparkling in its own particular way. It begins with "Good-Enough Mothers," about a woman whose wife travels for work while she stays at home with their children and ponders the neighbourhood, including the family across the road who run a tow-truck company, and the woman next door who lives with her ailing adult daughter, and the strange and disturbing ways that these households' connect with each other. Notions of bad mothers and good mothers intermingle here, and everything is relational. This story's tone is ominous, dark-undercurrents. In motherhood always, there will be peril, and you'll have to read to find out where.
"Maquila Bird" takes place in Mexico where a woman who works in a garment factory sewing jackets aims to escape her employers' mandatory pregnancy test and hold onto her job just a little bit longer. In "Transit," a pregnant woman who is uncertain of the terrain that lies before partakes in an eventful streetcar journey. "Let Heaven Rejoice" is the story of an oblivious church organist and the thoughts of those around her while the music plays, including her husband and children. "At the Track" takes place during the summer of 1975 ("The summer of 1975, my grandfather's friends wore leisure suits in turquoise and moss and mulberry with patterned shirts left open a few buttons to reveal an overgrowth of chest hair…") when a young girl is left in the car of her not-always-responsible grandparents while her single mother works nightshifts. In "The Winnings," a woman's fiancé wins the lottery and she starts to reconsider their future together. "Me and Robin" is narrated by a young girl who cares for her effeminate younger brother, although her feelings toward him are ambivalent.
"Masters Swim" is a strange but compelling story about swimming, and sisterhood. In "The New Kitten," a woman's job as a bank teller gives her a unique perspective on her husband's infidelities as she tracks his accounts. "Leaping Clear" is about a woman nearing the end of her life who is visited by the ghost of the man who'd got her "in trouble" years before, and reveals the real story of what happened to him after he skipped town (and what happened to her when she said yes to another man who wanted to marry her anyway). "Woman Cubed" about a contortionist and her overbearing partner. "Mother Makeover" about reality TV show when mother drama gets ramped up to max. And finally, "A Flock of Chickens," which I loved, about a teacher who gets into an ill-advised relationship with a colleague and ends up in a chicken coop, as you do.
Which is all the stories in the book, actually, which means not a dud among them, and I enjoyed reading this collection so much, its tautness, its polish, and wise perspective on characters' lives. Stories that are never samey, but instead such a pleasure to behold, one after anther.