October 19, 2018
Africville, by Shauntay Grant and Eva Campbell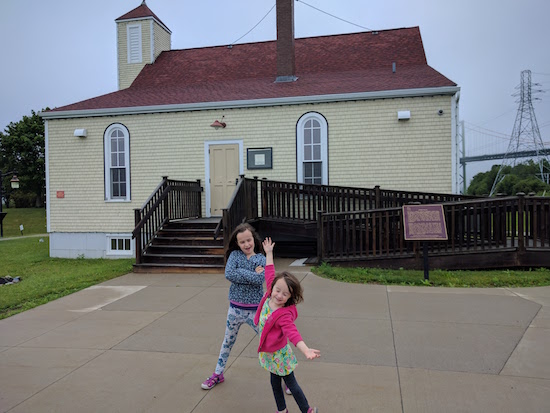 I am generally impressed with the search function for my online photos—if I search for "playground," "Kensington Market," or "bookstore," it tends to have an uncanny sense of what I'm looking for, although it still has trouble telling the difference between a cup of tea and bowl of soup. But a search for "Africville" turned up nothing, a location Google didn't recognize—which meant I had to go back into the archive and find the photo myself, the one of my children in front of the Africville Museum on our trip to Nova Scotia in 2017.
Which actually didn't surprise me in the slightest, the history of Halifax's historic Black community being one that's not much about erasure, never mind that many of its residents could trace their roots back to the arrival of Black Loyalists in Canada during the American Revolutionary War. But while the community thrived in many ways, Africville's residents never receive the same services as other taxpayers in the Halifax area, such as running water or sewage systems, and the municipality also saw fit to zone a garbage dump and slaughterhouses as its neighbours–all of which meant that when it became fashionable to condemn this historic Black community and recommend its demolition, there appeared to be plenty of reasons to support this action, and in the 1960s—against opposition—residents were moved out and the community was torn down.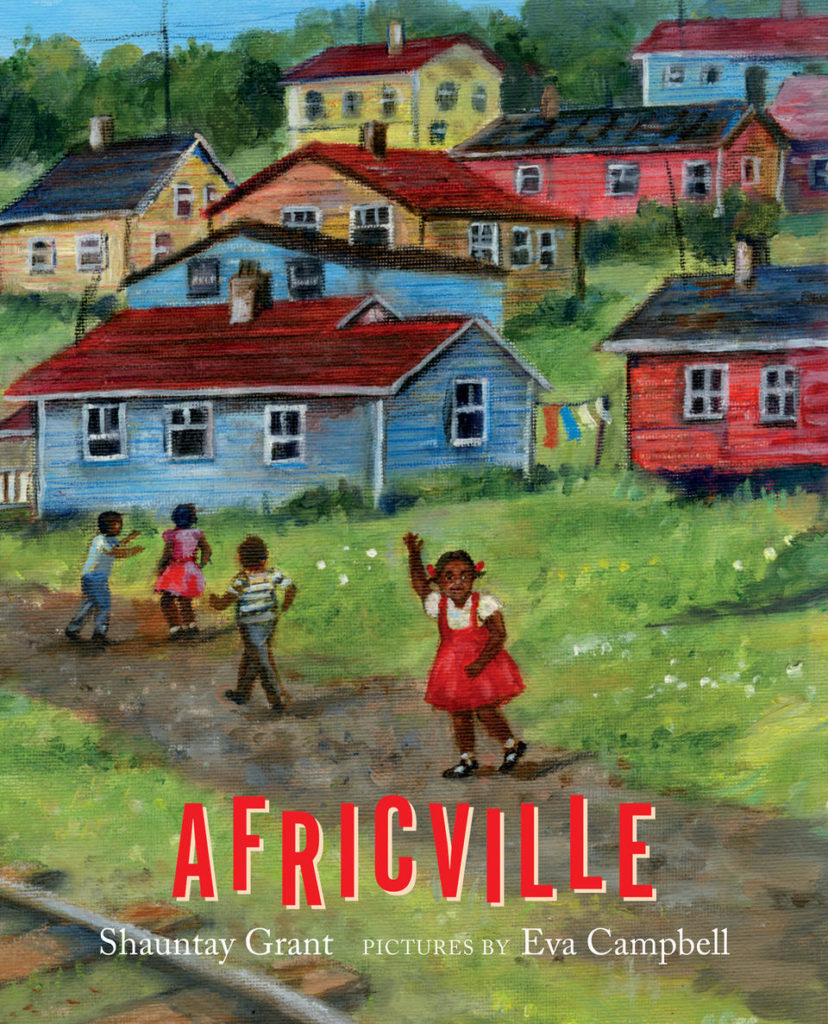 On the site now, a replica of the community's church has been built as a museum, following the declaration of Africville as a National Historic Site of Canada in 2002. Our visit in 2017  was moving and informative, with a great scavenger hunt that got my children involved and engaged with the exhibits, and prompted important conversations about systemic racism and its historic legacies. But while there were books in the giftshop, there were no picture books about Africville exactly. Instead, we got Up Home, a beautiful book about another Nova Scotian Black community called North Preston, written by poet Shauntay Grant—whose The City Speaks in Drums we also picked up somewhere along the way, a perfect Halifax souvenir. All this meaning that I've been really looking forward to Grant's latest release, Africville, a finalist for this year's Governor-General's Award for Children's Literature, lyrically resonant and stunningly illustrated by Eva Campbell.
"Take me to the end of the ocean," the book begins, "where waves come to rest and hug the harbour stones." Africville reimagined in Campbell's illustrations, oil and pastel on canvas, brightly coloured houses beside the bright blue sea. Blueberries growing on the hill, smells of apple pie and blueberry duff drifting from the kitchens. Football, rafting, and warm summer nights, "down at Kildare's Field,/ a bonfire burning red/like the going-down sun."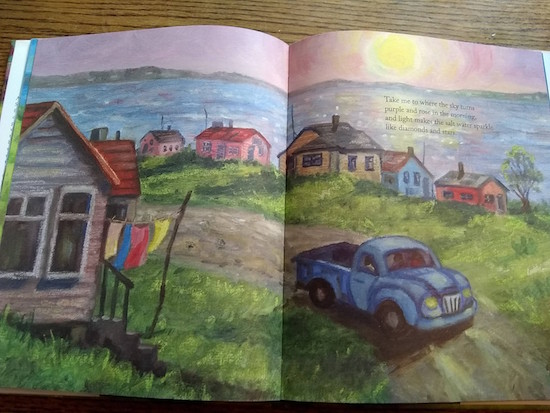 "Where the pavement ends and family begins."
Through her story, Grant shows the resilience of Halifax's Black community who wasn't about to let their history disappear, and founded an annual Africville reunion festival in 1983, which continues years later and helped lead to the historic site declaration decades later. The rainbow houses are gone, but we see a stone marking the names of community families, and celebrations and singing inside the festival tent. "…where memories turn to dreams,/ and dreams turn to hope,/ and hope never ends. Take me…to Africville." A history that's erased no longer.