September 18, 2018
Transcription, by Kate Atkinson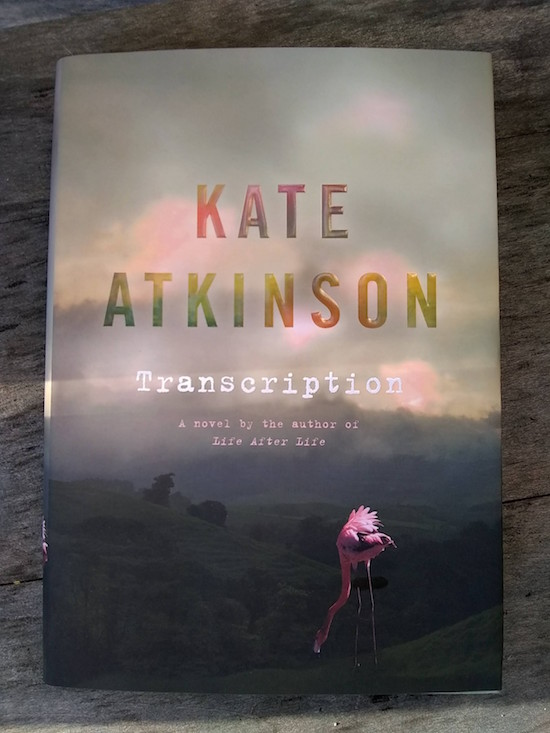 This post is less a book review than "How I Spent My Weekend." I don't really know that I'm capable of reading a Kate Atkinson novel critically, or if I'd even want to be. I read them for pure enjoyment, delight, for her narrative tricks, and the way she plays with history, and story. For the little twists that make her books so unforgettable, and how they get lodged in the mind, like how I'm still even thinking of Behind the Scenes at the Museum, even though I read it thirteen years ago.
Since then, Atkinson has waded into detective fiction (igniting my own love affair with the genre) with her Jackson Brodie novels, and then in her two most recent books exploring historical fiction, as ever probing at the limits of what a novel can hold, just how far it can stretch. And that her latest is a spy novel set during during WW2 and also in 1950 is not at all incongruous. Questions of duplicity, reliability, truth and lies, and how History agrees with the factual record are what has fascinated Atkinson from the start of her writing career. I've always said that all her books have been mysteries (and maybe all books are in general) and maybe they've always been spy novels too.
Transcription is about Juliet Armstrong, something of a cypher, who gets a job with MI5 in 1940 transcribing meetings between a government agent and people who believe they're reporting state secrets to the Gestapo. As with any book about English fascism during the 1930s/40s (including Jo Walton's Small Change series) there is a contemporary resonance, although it's subtle here. In addition to her transcribing, Juliet is enlisted to infiltrate The Right Club, a group of German-sympathizers, taking on an additional identity. And all of these war-time activities come back to haunt her a decade later as she's working at the BBC (Atkinson has said this part of the story was inspired by Penelope Fitzgerald's Human Voices) and finds old associates in close proximity again. What do they want from her? What does she have to offer them? Is this just paranoia on her part—there are references to the movie "Gaslight." How much can the reader trust Juliet at all?
I loved this book—but of course I did. I read it in two days and delighted in that very rare and always exquisite, "I'm reading a Kate Atkinson novel for the first time" feeling. And like all her books, it will bear rereading, even once the twist is known. Because Kate Atkinson is always about more than just tricks, but instead about textual richness, and all the clues you missed that were glaring all along.