August 7, 2018
Sodom Road Exit, by Amber Dawn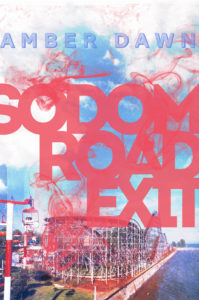 I've had Amber Dawn's Sodom Road Exit waiting for me since the beginning of May, when I bought it right after seeing her speak on a panel on genre at the Festival of Literary Diversity. She was fantastic on the panel (along with Cherie Dimaline, David A. Robertson, and Michelle Wan), explaining that Sodom Road is an actual road with an exit off the QEW to get to her hometown of Crystal Beach, on Lake Erie, which was once a thriving resort town with an amusement park famous for its terrifying roller coaster. Her novel is set during the summer of 1990, a year after the amusement park closed and things are officially in decline. Which is when Starla Mia Martin returns to town, driven by debt and desperation to move back in with her mother, and then inadvertently begins to channel a ghost who is powered by relics from the old amusement park, the spirit of a woman who'd been killed in an accident on the roller coaster decades before. But is this a benevolent spirt? Is she helping Starla get back on her feet, or is she only making it worse—and for a good portion of the book, it's hard to tell. Starla gets a job working at a campground on the graveyard shift, which doesn't help calm her mind at all, or reduce her propensity for being haunted. And as her connection to the spirit intensifies, Starla's situation is complicated by the relationships she's developing in Crystal Beach, in spite of herself—with her boss at the campground, an Indigenous woman who lives there and is struggling to maintain custody of her son, with the former high school classmate who dances at the local bar and with whom Starla might possibly think about entering into a relationship…were she the type of person who did such a thing as have loving relationships, and also if she wasn't already cavorting with a woman who's been dead for fifty years.
Things get complicated Or even more complicated? Starla, following the instructions of the spirit, has a memorial gazebo erected out of materials from the amusement park, and people begin to travel from miles around to witness her communing with the dead and perhaps channelling their own lost loved ones. But the toll of these experiences and the burden of Starla's connection to the spirit become too much for her to carry and her mental and physical health begin to suffer, so much so that soon the people who love her are frightened for her life.
I picked up this book because I was intrigued by the setting, and also so fascinated by Dawn's remarks on genre and the idea of the novel as a container for a ghost story. And I was a little bit intimidated to finally start reading it because a) it had the word "sodom" in the title, b) it was a solid brick of a book and was I ready to commit to that many pages, and c) in order for the premise to work, it would have to be a really, really exceptional novel. Which, it turns out, it is. I loved this novel. We were camping the weekend before last, which isn't always the best place to be reading, because there are bugs, and chores, and children setting themselves on fire, but all these things took a back seat as I read 300 pages of this book in two days, and came home and read the rest once the laundry was done, because it really was that compelling, so masterfully crafted. It's a perfect gripping amazing summer read, but it's also underlined with substance—the stakes are real here. I absolutely loved it.