July 19, 2018
Mitzi Bytes: Big In Muskoka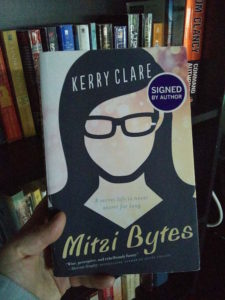 Though not for lack of trying, I have never encountered anyone reading my novel on the beach, but I came very close last week when a copy was spotted in the library at the cottages we were staying at. My friend saw it first, but only mentioned it offhandedly because she'd assumed I'd put it there. But I hadn't—at least I didn't think I had. And the other families we were vacationing with, both of whom had stayed at the same place last summer, promised that they hadn't left the book either. I didn't really believe any of us—was it possible that my book had been purchased by a person I don't know (or who is not, a least, a friend of my mother's)? But it had a sticker from Chapters Indigo, so it was certainly not a copy I'd dropped off and then completely forgotten about (distinctly possible…) My friends hadn't bought their copies at Indigo either, and the spine was even cracked. And while I could have decided to respond to this situation by being despondent that a reader had left my book behind and not committed it to their personal library for all of eternity because it was the most affecting and incredible novel they'd ever encountered in a lifetime… instead I was just pretty thrilled because the cottage library was in alphabetical order even, featured some pretty excellent titles, and each one was stamped with the cottage library stamp, which seemed very official. This cottage library was legit.
And presumably, someone had been reading my novel on the beach…even if I wasn't there to see it.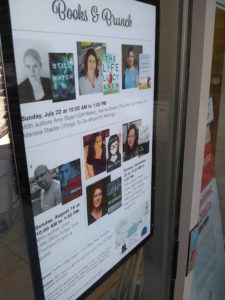 So that was pretty cool, and then my sense of being Extraordinarily Popular in Muskoka was only compounded when we went into town for the day and my face was on the Huntsville Public Library's Books and Brunch poster, plastered all over town. And on the library display screens displayed prominently over the checkout desk—my children were very excited!! To be famous in a library is no small thing, although nobody recognized me—when my author photo was taken I was wearing make-up, had washed my hair recently and wasn't covered in bug bites. But still, they knew it was me. It was all very exciting. (The Huntsville Books and Brunch Event is at Hidden Valley Resort on September 23 with superstars K.A. Tucker and Hannah Mary McKinnon [whose The Neighbours I read before I went on holiday, and liked so much…] You can buy tickets through the library.)
One other exciting thing is that Karen Green at Bookclubbish included Mitzi Bytes on a list of books by Canadian authors to read for Canada Day—alongside writers including Karma Brown, and Sharon Bala. If you missed it, fear not! You can also read Mitzi Bytes for the August Civic Holiday Weekend…
And in case you were curious about what Mitzi Bytes and I are up to this fall, I'm pleased to be taking part in some fantastic events across the province—The Dunedin Literary Festival, Huntsville Public Library Books and Brunch, Stratford Writers Festival, and Wordstock Sudbury. If any of these these happen to be in your neck of the woods, I'd love to see you there.