July 16, 2018
Summer Reading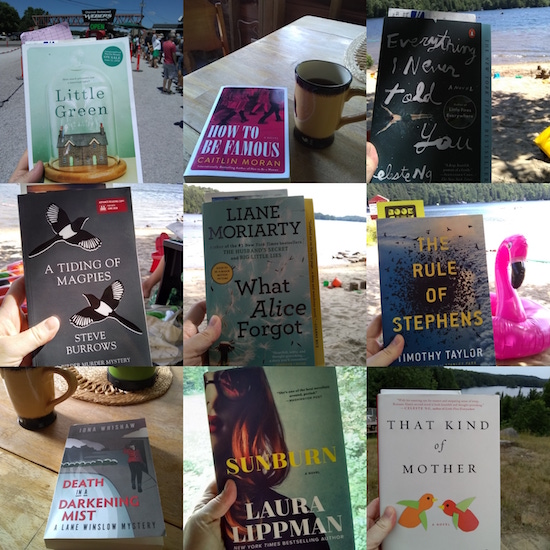 When we arrived at our rental cottage up north last Saturday, I was surprised to feel troubled, because here we were in the most idyllic place imaginable on a glorious summer day, the beginning of a splendid week. But it was unease that I encountered—so slight but visceral—as I climbed the hill, took in the vista, and walked the paths I last walked almost a year ago. A few moments before it all clicked: it had been the books, of course. And also the weather—last summer the sky was always dark and brooding and there were storms every day. It was such an uneasy summer, climate-wise, and the books I'd brought along with me only complemented the atmosphere. It is possible that anyone would feel disturbed upon returning to the place where they'd read Emily Fridlund's History of Wolves, I mean, or experienced the intensity of Liane Moriarty's Truly, Madly, Guilty. Wilde Lake too, which was a modern take on To Kill a Mockingbird, but with more sinister undertones. Our last night there I started reading a Louise Penny novel and the weather in the opening chapter was identical to the thunder storm crashing outside our cabin window, and I began to wonder if the line between fiction and reality had become blurred. It really was intense, all of it, nine books in a week the definition of intensity anyway. So that when I arrived back there, it all came back, those incredible books I'd been so wrapped up in.
It's funny how books stay with you, and not always in the ways you'd expect. I really enjoyed Jessica J. Lee's Turning: A Year in the Water last year at the cottage, but it wasn't a book I expected to return to. I gave that book away in the spring, but when I jumped into the lake last week (over and over again) I realized what a mistake I'd made, that here was a book that had changed my life. I've been jumping into lakes and pools ever since I read it instead of easing my way in gently (and sloooowly) as in previous summers, thinking, "If Jessica J. Lee can use a hammer to crack the ice and jump in a lake in December, I'm certainly capable of a cannonball in July." Back in the lake beside which I first read it, I realized how much this memoir needs a space in my book collection. How much all those books I read last summer had gotten under my skin.
I wasn't sure how the reading was going to pan out this year—we were going on vacation with three other families, and while this was a very good plan, I was concerned that being surrounded on all sides by people I like might get in the way of my reading prowess. But it turned out not to be the case because, a) it turned out no one was interested in surrounding me on all sides 24 hours a day b) everyone else was reading too and c) our friends had brought their children, who whisked mine away for so much freedom, fun and adventure that I scarcely saw them all week long and therefore got to read so much that I almost go bored of reading. (Almost. I did, however, get bored of potato chips, shockingly, but that was only very temporary and things are back to normal.)
Anyway, it turns out that I read nine books again, and it was exhilarating and amazing. Liane Moriarty again, who does not get nearly enough credit for being a literary genius—the nuance and craft in her work is astounding. More Laura Lippman too, because she is just such an astounding novelist. The latest Birder Murder Mystery, A Tiding of Magpies, which was the first anti-Brexit novel I've read since Ali Smith's Autumn (and it made me thinking about whether a good pro-Brexit novel was a literary impossibility). I really liked it, and also Death in a Darkening Mist, by Iona Whishaw, the third book I've read in the Lane Winslow mystery series which has really been a highlight of my summer. The new Caitlin Moran, which was so terrific, laugh-out-loud funny, powerful and profound. So glad to read Celeste Ng's first novel after loving her latest a few months back. I was happy standing in line at Webers, because I had Tish Cohen's Little Green in my bag, which was a certainly a novel that had me in its thrall. And Rumaan Alam's That Kind of Mother still has me thinking about all the spaces in between its story and I think I'm haunted by the ending—such a subtly provocative book.
I wonder which of these will still be haunting me a year from now?