June 19, 2018
Ayesha At Last, by Uzma Jalaluddin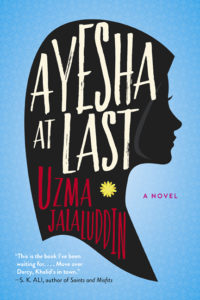 True confession: I'm not a huge fan of Jane Austen and think Colin Firth is kind of drippy, so while the Pride and Prejudice connections to Uzma Jalaluddin's debut novel Ayesha at Last might get some readers going, it was never going to be me. But thankfully Jalaluddin doesn't stop at Austen while giving her novel its literary underpinnings—her main character Ayesha's grandfather is an English professor who peppers his speech with allusions to Shakespeare and he's the one who points out the similar framework between Ayesha's own story and many of Shakespeare's plays—"Shakespeare enjoyed a good farce. Separated twins, love triangles and mistaken identity were his specialty. Yet it is through his tragedies that one learns the price of silence." He implores his granddaughter, "Promise you will always choose laughter over tears. Promise you will choose to live in a comedy instead of a tragedy." But any life, of course, will always be a bit of both.
In Ayesha at Last, the shenanigans begin when Khalid, a very conservative Muslim, takes an interest in the woman who lives across the street in his new neighbourhood, which sounds like no big thing, except Khalid is devoutly uninterested in women in general because he's waiting for his mother to arrange his marriage. He also refuses to shake his new boss's hand, because touching women goes against his beliefs, which causes his boss to turn against him with brutal results. And then later at a meeting at his mosque to help organize a youth conference, he finds himself face-to-face with the woman he's been watching…except he thinks she's her cousin, and attraction sparks between them before some inevitable mishaps ensue.
And the woman, of course, is Ayesha herself, who's starting a new career as a teacher to pay back a debt to her uncle, although she'd rather be writing poetry or doing anything but standing in front of a classroom of high school students. She gets roped into organizing the youth conference because of her flighty cousin Hafza who is currently entertaining several potential husbands (mostly because she's longing to kickstart her career as an event planner, and feels her own wedding would be the best place to start). Her best friend is Clara, who works with Khalid (in HR, which doesn't make it easy when Khalid's boss goes on her vindictive rampage). And Ayesha has absolutely no interest in Khalid, with his robes and untrimmed beard and archaic ideas of what it means to be a proper woman or a proper Muslim. But when the two of them are together, something happens and the force is unstoppable.
There are a couple of instances of awkward maneuvering at the beginning of the story to get all the players in their proper places, but once the story starts, Ayesha At Last becomes very difficult to put down. Neither Ayesha nor Khalid is a perfect human, and at first they tend to bring out each other's worst tendencies, and then there's the matter of Khalid not knowing Ayesha's actual identity, and when he gets to engaged to the actual Hafsa (thinking she is Ayesha) it all begins to go wrong. The story is further complicated with the involvement of Khalid's sister, who was sent away to India years before under dubious circumstances and Khalid is too afraid of his mother to ask the right questions about what happened to her, and also Ayesha's own mother who is bitter about marriage after her husband's mysterious death, so Ayesha doesn't have the answers in her own family history either. And what is the role of love then, and is it a blessing or a curse, and does it have a role at all in communities that adhere to traditional values?
Ayesha at Last is completely a delight, more farce than tragedy, but with depth and poignancy and a willingness to grapple with big questions. It's a smart and assured debut that is deliciously devourable and deserves space on everyone's reading list this summer.