June 11, 2018
Hanging On The Telephone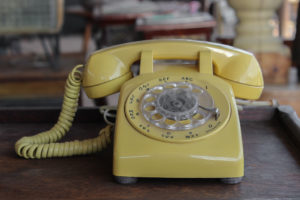 I used to talk on the phone the way I browse the internet today, aimlessly, for ages and because I was bored. I used to lie on my bed and talk for hours, winding the coiled cord around my fist and then unwinding it over and over again until the cord lost its coils altogether. I used to call up people for absolutely no reason, and if nobody answered, I'd move on to the next number in my phone book, and then the one after that. I used to talk so long on the phone that my parents would come on the line and yell at me, which was always mortifying, but that wasn't so bad because everybody's parents were yelling at them on the phone sometime. Sometimes in the late 1990s, it was difficult to call people with big brothers because the line would be busy and the brothers were on the internet.
When I was small, the phone was mounted on the wall in the kitchen, and eventually I would be taught to answer it, to say things like, "Yes, just a minute please," or, "No, she isn't, but can I take a message?" (although in my teenage years, I would have difficulty taking a message and then actually delivering it). In the mid-1980s, my family got "portable phones", which were large with antennas, and at least once someone left one on the car and then drove away and lost it. A few years after that, I used to go to sleepovers where we'd go through the phonebook and call random people we sort of knew from school, or just dial strange numbers altogether, and say provocative things like, "Hi! Is this Kentucky Fried Chicken? Do you have any breasts?" I used to also spend hours perusing the phone book, tracking down vital info about the people I knew, like what their dad's name was, and what their address was. Some of the people listed in the phonebook were our teachers.
I remember rotary dial, and my fascination with the little piece on the end of the dial that caught your finger and kept you from dialling around and around and around. I loved the way you could poke your fingers in the holes, and the letters attached to each number, whose purpose I could not understand. My grandparents' phone was not attached to the wall, and it had a long cord, so you could carry it into the next room and even close a door for privacy. I remember, "Please hang up and try your call again. This is a recording."
My parents had an antique telephone that still hangs on the wall in my mother's house, a big wooden box with a face (bells for eyes, a big honking speaker for a nose) and I loved that phone's expression, and how you could make the bell ring by turning a crank on the side. This phone has confused my children's sense of chronology, however, as they now associate it with my mother, and imagine it was the kind of phone they had when she was a little girl, and therefore she is approximately 170 years old.
I used to have a plastic Fisher Price phone with a face that you pulled on a a string, but so did everybody, so I don't have to tell you about this.
Some of the very best song about phone calls are "Sylvia's Mother", "Tell Laura I Love Her", "Hanging On the Telephone", "Beechwood4-5789", "867-5309 Jenny," "Hotline Bling," and "Hello."
When I was a teenager, my yearning for a phone in my room was overwhelming, and I wrote out a detailed three page plan in order to convince my parents I was responsible enough for this privilege. When I went to university, I had to stand in a very long line-up in order to secure a telephone line of my own, and this was amazing because then I got to record musical messages on my voicemail that I changed weekly and usually were thematic. It was at this point too that the telephone company put a $20 limit on monthly long-distance charges, which was revolutionary, and also meant that you could call people before 6:00 and not have to declare bankruptcy. And therefore I could call my friends in their university dormitories across the country, because this was still easier than having to go to the library to send them an email.
Around this time, some people started getting cell phones, but it was complicated, because they were wary of you calling them because they could be charged for the phone calls. Which I think was the beginning of me being put off phoning people. After university, I moved to England and then Japan, which were miles ahead of Canada in terms of mobile phone technology (like the phones had cameras, guys!) and maybe it was living in radically different time zones from the people I loved that got me accustomed to not receiving phone calls. When we moved to Canada, phones were crappier and plans were expensive, so I didn't have a cell phone for years, which was fine, and here was the point where the only people who ever phoned me were my parents. I used to have everybody's phone number in my head, but I don't even know my own cell phone number. There was about two years where I did have a cell phone, but it didn't have a SIM card, so basically my cell phone was a tiny expensive computer whose Wifi I utilized and carried around in my handbag.
(I phone my husband at work all day long, and he phones me in the half-hours in between that. We generally talk about nothing. I am always delighted when the phone rings and call display tells me it is him. This is how I know it's love, fifteen years and a half years after we met. He is mostly the only reason I still have a phone.)
I hate talking on the phone now. I don't like being bothered. I don't like to call anyone, because I don't want to bother somebody else. Sometimes there is a sweet spot where I'm making dinner or washing dishes, and you can phone me then and I'll be glad to talk, but otherwise, I'd rather you didn't.
My children don't know how to use the phone. The only people they talk to on the phone is their grandparents, and they lack the skills to have a proper conversation this way. Recently I watched my daughter attempt to dial a number, and realized she'd never done it before. And last week our phone kept ringing off the hook because there was an election on Thursday and we're one of the handful of people left in the province with a landline, and everyone wanted to make sure we got out to vote. The phone rang on Wednesday and I was indisposed (i.e. sitting on the toilet scrolling through Instagram) and I called to Harriet to answer it. I heard her say, "Hello," and then nothing else. I came back downstairs and asked her what happened. She said they'd asked to speak to her mother, and she didn't know what to do. "So I hung up," she said. She didn't see why this was unreasonable.