May 28, 2018
Sharp, by Michelle Dean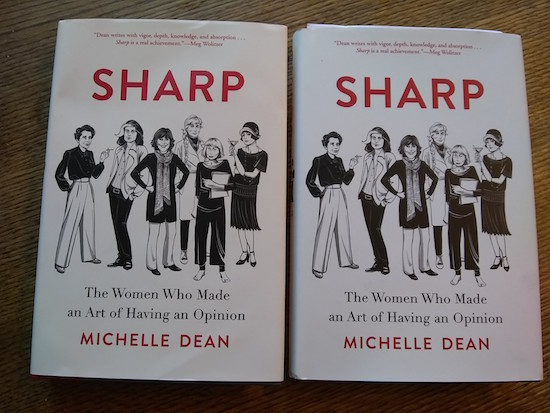 I put Michelle Dean's Sharp: The Women Who Made an Art of Having an Opinion on hold at the library as soon it was available, and then a bought the first copy I saw for sale at a bookstore because I just couldn't wait. The next day a review copy arrived from the publisher, and then three days after that I got the call that my library hold was in, and by this point my children were saying, "Not that book again!" But if ever a title should be ubiquitous, this would be the one. I've never read a book quite like Sharp in all my life, and I'm pretty sure you haven't either.
So here it is: this is not a book about women who were outliers, a sideshow project. Yes, the women profiled in Sharp were exceptions to the rule, which is still true and mainly that people aren't all that interested in what women have to say. But it's that history tends to be chronicled through the experiences of men that gives us the idea of these women being on the margins, not the history itself. As Dean writes in her preface: "Men might have outnumbered women, demographically. But in the arguably more crucial matter of producing work worth remembering, the work that defined the terms of their scene, the women were right up to par—and often beyond it." So that you can you write a history of twentieth-century criticism, and just skip the men altogether, and still end up with a rich and engaging 300 pages comprising fullness.
Though no doubt most of these woman would bristle at being placed in such a group, as these were usually women who resisted groups altogether. Many of them hated each other, though there were some surprising friendships as well (Mary McCarthy and Hannah Arendt!). None of them were "speaking for women," either, but instead were human people who expressed ideas about things, and sometimes they were wrong, which for women especially is a perilous endeavour. Most of them challenged notions of feminism and sisterhood as well, but then what else would be expect critics to do?
I will be honest: I've been ambivalent about the value of criticism for the past few years, and Sharp doesn't totally assuage that. Social media has done a good job of putting me off opinions altogether, and has me second-guessing whether mine are really worth sharing. "Who cares?" is also a question worth asking, and always has been—and even with these famous critics, the answer is usually "most people don't." A lack of outcry about the disappearance of platforms for reviews from anyone except the reviewers only underlines this. Nora Ephron, Joan Didion and Susan Sontag, for example, are best known today not for their criticism. It also strikes me as a very male thing, definitiveness and ranking, like those guys on twitter demanding you show them your source. Why would a woman even bother? (At a certain point in their careers, many of these women no longer did.)
But a good reason to bother is for the richness that women's voices, in all their diversity, add to the critical culture, I suppose. Dean is forthright about this in her preface when she writes that understanding what made these women who they were is most important because of how much we need more people like them.